MDG Rebrands HCA's Columbia Hospital as West Palm Hospital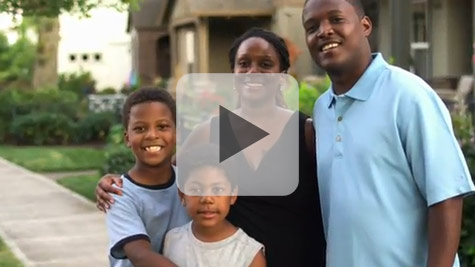 MDG recently created an integrated marketing campaign to rebrand Columbia Hospital as West Palm Hospital. A part of the renowned HCA East Florida division, serving South Florida and the Treasure Coast, Columbia Hospital in West Palm Beach has earned the highest ranking for patient satisfaction in HCA's entire East Florida division.
In an effort to increase community awareness of the hospital's broad spectrum of medical services and enhance the public's perception of their excellent patient care, MDG was selected to create an integrated marketing campaign, a new tagline, new logo, compelling brand video, and promotional collateral to build awareness for the newly named West Palm Hospital.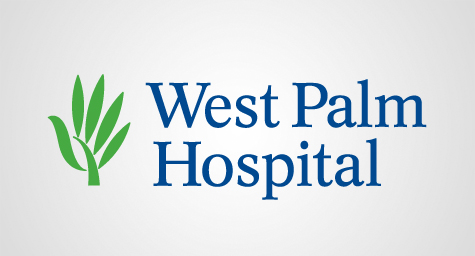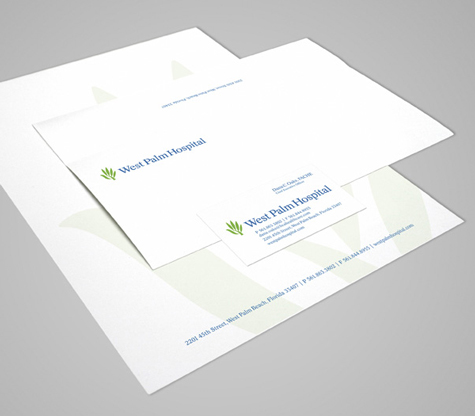 The new tagline for West Palm Hospital is "Health. Caring." This captures the hospital's greatest strengths, which are their health services and caring staff, while creating a creative double entendre that describes the industry itself.
The new logo also features a double meaning. What appears at first glance to be simply an illustration of a green palm frond, to portray the hospital's West Palm Beach location, is also the likeness of the palm of a hand, which represents a helping hand in the community.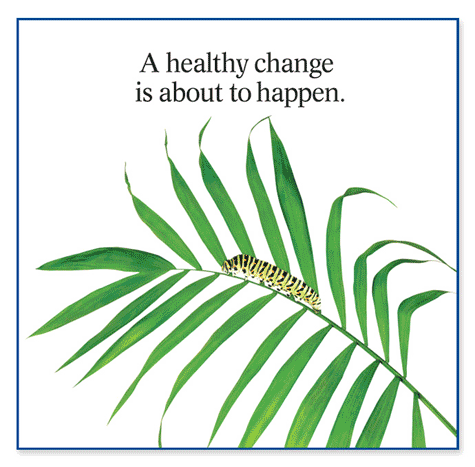 In an effort to increase community awareness of the facility's new name, it was decided to hold an exclusive unveiling event at the new West Palm Hospital. Our team created an invitation and a video that incorporated the branding message of a "healthy change" with the new tagline, along with the visual elements of the palm frond/palm-of-hand logo.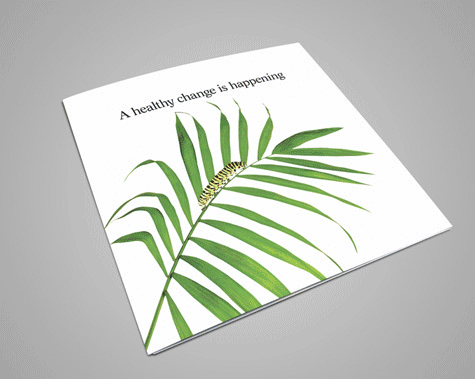 For the video, our creative team took a sincere, heartfelt approach. It features a montage of images that capture people of all ages enjoying life, along with images of medical professionals. The narration touchingly describes how change is an inevitable part of life and how Columbia Hospital is experiencing a healthy change by evolving into West Palm Hospital to better reflect the exceptional health care they provide and the needs of the West Palm Beach community.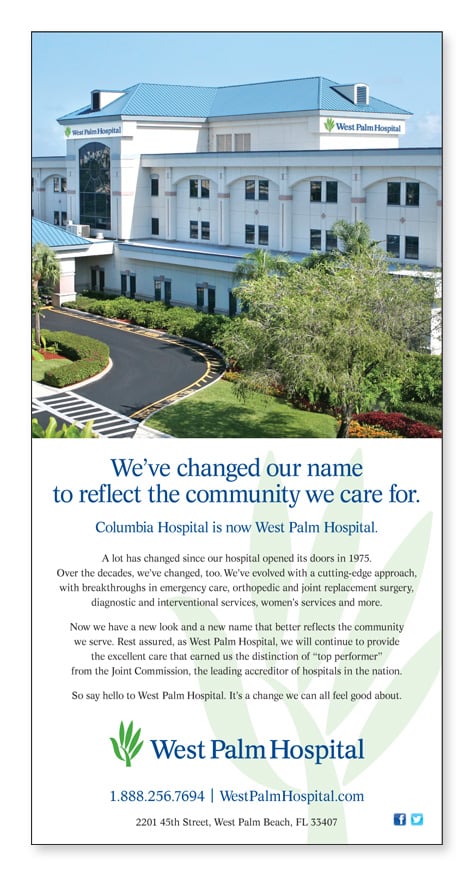 Images from the exclusive unveiling of the new West Palm Hospital
We invite you to discover our work for the new West Palm Hospital.
To implement an integrated marketing campaign for your healthcare brand and increase marketing ROI, contact MDG today at  561-338-7797 or visit www.mdgsolutions.com.
MDG, a full-service Florida advertising firm with offices in Boca Raton and New York, NY, specializes in developing targeted Internet marketing solutions, exceptional creative executions and solid branding and media buying strategies that gives healthcare marketing clients a competitive advantage. Our core capabilities include branding, logo design, creative, digital marketing, print advertising, print collateral, outdoor advertising, media planning and buying, TV and radio, video, Web design and development, email marketing, social media marketing and SEO.
At MDG, our 360° marketing approach uses just the right mix of traditional and online media to reach your healthcare marketing goals. While some industries may fare better in print and others online, we strive to create a balanced approach where digital and traditional marketing efforts support each other and your marketing message is tailored to the medium.