MDG Rolls Out a Thrilling TV Commercial for the South Florida Fair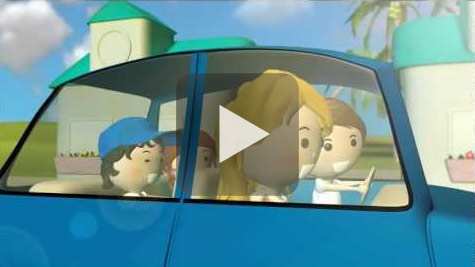 Each year, the South Florida Fair offers an exciting escape from the everyday, where family and friends can share good times and make great memories. The 101st South Florida Fair is rapidly approaching with all of the carnival games, rides, themed expositions, fair foods, concerts, dance performances, local celebrities, animal competitions, a petting zoo, and more to ensure that there's something for everyone to share at the Fair.
MDG has once again developed an integrated radio and TV advertising campaign for our long-time client, the South Florida Fair. Our team is especially proud of the new animated 3-D TV commercial we created, which captures the fun and excitement of this annual event with visually stunning graphics and memorable music.
The commercial's "day in the life" approach takes a family on a journey through the fair, and a rollercoaster is the vehicle that takes viewers through all the fair's offerings.
In the two years that MDG has created its advertising, the South Florida Fair has broken numerous sales and attendance records. In 2011, the fair broke 11 individual records and saw attendance increase by more than 3%. Continuing their success in 2012, the fair's midway and admission revenues rose, and a number of individual or daily records were broken, including five single-day midway records and two single-day attendance records.
"After the fair's record-breaking success the past two years, our goal was to provide TV spots this year that would raise the bar," said Michael Del Gigante, president and creative director of MDG. "We decided an animated approach would appeal to a diverse audience, and would reflect the fair's diverse offerings."
While the South Florida Fair runs from January 18 through February 3, Christmas in Yesteryear Village is open the first and second weekends of December. Please take advantage right away of the FREE children's ticket offer and discounted advance admission at your neighborhood Publix. For more information about the Fair, visit www.southfloridafair.com.
To learn more about the power of a creative TV commercial, contact MDG today at 561-338-7797 or visit www.mdgsolutions.com.
MDG, a full-service advertising and digital marketing agency with offices in Boca Raton, FL and New York, NY, specializes in developing targeted Internet marketing solutions, exceptional creative executions, and solid branding and media buying strategies that give clients a competitive advantage. Our core capabilities include branding, logo design, advertising campaigns, digital marketing, print advertising, direct mail marketing, media planning and buying, radio and TV advertising, jingle writing, video, Web design and development, email marketing, social media marketing, and SEO.