MDG wins 24 ADDY® Awards, including Best in Show–Print and Best in Show–TV/Arts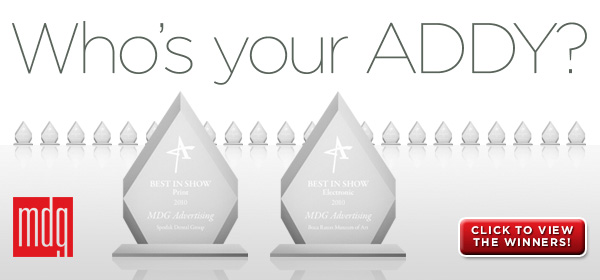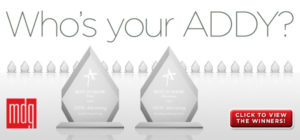 It was a win-win situation for MDG at the 2010 Palm Beach Advertising Federation ADDY Awards ceremony. The agency dominated the ADDYs, winning the most awards overall, including Best in Show–Print for Spodak Dental Group's print ad campaign and Best in Show–TV/Arts for the Boca Raton Museum of Art's Shock of the Real TV spot.
"Our clients are excited that we won for the work we created for them," remarked Michael Del Gigante, MDG's president and creative director. "What wasn't celebrated at the ADDYs, however, was the effectiveness of our work, which has allowed our clients to take advantage of the economic downturn, capturing market share while their competition stopped advertising."
CLICK HERE to see our award-winning work.
About MDG
MDG is a full-service advertising agency, with offices in Florida and New York, that specializes in developing exceptional creative executions, targeted Internet solutions, and solid branding and media-buying strategies that give clients a competitive advantage.
For more information, call 561-338-7797, email us, or log on to www.mdgsolutions.com.