MDG Wins Regional Social Media Competition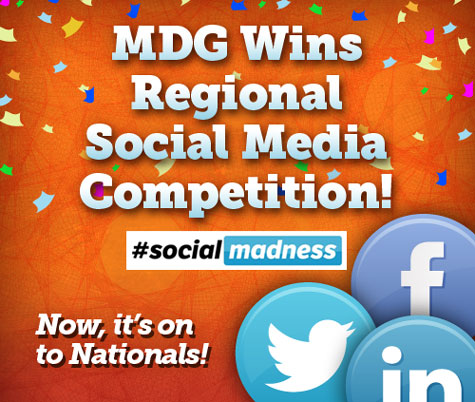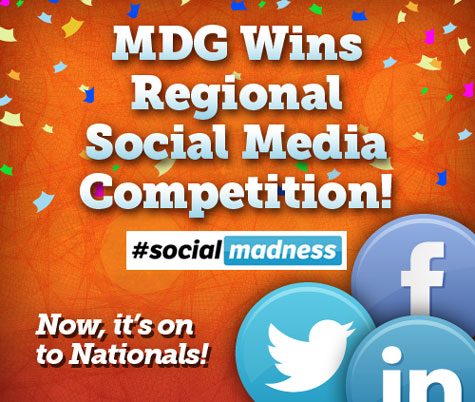 After four rounds, including three head-to-head bracket rounds and six weeks of social media competition, MDG emerges as the winner in the South Florida Social Madness Challenge. MDG now advances to the national rounds.
(Business Wire) Boca Raton, Fla. – July 22, 2012 – MDG, a full-service Florida advertising agency with offices in Boca Raton and New York City, today announced a first-place win in The Business Journal's South Florida Social Madness Challenge. This one-of-a-kind corporate media challenge measures the growth of a company's social presence.
The agency won all four rounds in the competition's "small company" category, defined as from one to 99 employees, in scoring that took place from June 1 through July 16. Scores were tallied based on a company's growth on Facebook, Twitter, and LinkedIn, as well as votes on the Social Madness website.
Beyond winning in its category, MDG placed higher than all medium-sized companies and higher than every large company, with the exception of Norwegian Cruise Line. MDG now moves on to the national competition, taking place from July 24 through September 10. The winner of this next level will have $10,000 donated to the charity of their choice. To keep in the spirit of being social, MDG is allowing its supporters to help choose the winning charity.
According to Jeff Cohen, director of social media at MDG, "This is a fantastic example of the reach of social media and its power to rally the online community around great causes like the charities we're playing for. We approached this challenge with the same level of expertise and enthusiasm we put into our clients' social media efforts and are thrilled with the outcome."
Michael Del Gigante, president and creative director of MDG, agrees, "As an agency, we've been heavily committed to social media since its inception. I'm proud of our team for embracing this challenge and thankful for the support of our clients and the new and existing MDG fans who enabled us to advance to the national rounds, proving the effectiveness of this powerful platform."
Founded in 1999, MDG has established a leading reputation for developing targeted and integrated 360° marketing solutions. The agency's fast growth directly results from its solid branding and media-buying strategies, award-winning creative, innovative Web design and development, as well as effective digital and social media marketing.  The list of those benefiting from a competitive advantage developed by MDG includes: The Breakers Palm Beach, Dental Care Alliance, IBM Southeast Employees' Federal Credit Union, The Seagate Hotel and Spa, Carls Patio, Brain Balance Achievement Centers, Boca Raton Museum of Art, South Florida Fair, MDVIP, Round Hill Hotel and Villas, TooJay's Gourmet Deli, Upfront Foods, Signature Consultants, World Fuel Services, Benetrends, Max Planck Florida Institute and HCA East Florida.
For more information about MDG, please visit www.mdgsolutions.com.
Follow @MDGadvertising on Twitter
To see the full press release click here.