MDG Creates an Unbeatable Cardiac-Care Ad Campaign for HCA East Florida Hospitals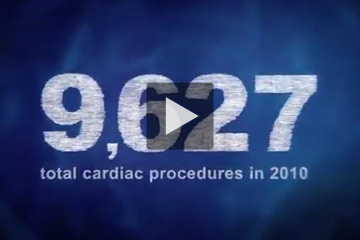 MDG recently developed and produced a multi-faceted advertising campaign for the HCA East Florida hospitals that specialize in comprehensive cardiac care. These hospitals are nationally recognized for their excellent cardiovascular teams, extensive experience, advanced technology, and superior support services. The purpose of the campaign was to highlight the cardiac-care hospitals within the HCA East Florida division and position them as leaders. This resulted in an integrated campaign that includes print, outdoor, TV, radio, and microsite development.
The concept was based on the high volume of cardiac procedures performed at HCA East Florida hospitals. Our messaging expressed that this volume directly correlates to the hospitals' high number of successful outcomes. By making that message the heart of our ads, we positioned HCA East Florida hospitals as leaders in cardiac care by conveying that thousands of patients have selected them to perform their cardiovascular procedures.
By focusing on the statistics at the heart of HCA East Florida's cardiac-care success, we created a compelling integrated advertising campaign that shows how HCA East Florida's cardiac care is "the first place you can count on when it comes to second chances."
To discover innovative healthcare advertising and marketing strategies to distinguish your brand from the competition, contact MDG.
MDG, a full-service Florida advertising agency with offices in Boca Raton and New York, NY, specializes in developing targeted Internet marketing solutions, exceptional creative executions and solid branding and media buying strategies that give healthcare clients a competitive advantage. Our core capabilities include print advertising, branding, logo design, creative, digital marketing, media planning and buying, TV and radio advertising, customer relationship management, loyalty programs, public relations, Web design and development, email marketing, social media marketing and SEO. View MDG's creative marketing portfolio.