MDG Creates New Television Advertising Strategy to Support the Growth of Carls Patio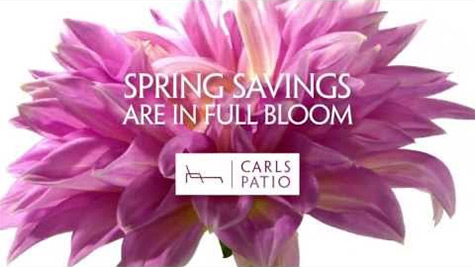 Just as new patio furniture can completely enhance the appearance and ambiance of an outdoor area, MDG totally revamped the branding, media strategy, and social media identity for Carls Patio to give the outdoor furniture brand a more contemporary look and feel. This retail marketing makeover began last year when Carls Patio selected MDG as its agency of record, and has resulted in such strong success that the brand is expanding into new locations. To celebrate Carls Patio's rapid growth and promote the opening of its new stores, MDG developed an all-store savings event and created a new TV commercial to promote the event to their entire market.
"Our results for Carls speak for themselves. We revamped everything, from branding to social media to a targeted, cost-effective media strategy. This resulted in 18% year-over-year growth with fewer locations and a substantially lower media spend," said Michael Del Gigante, creative director and president of MDG.
The savings event was unique in the way it offered storewide savings at all locations, rather than just on specially selected merchandise or only at a new location. This approach allowed Carls' entire market to celebrate, offer savings, and maximize exposure.
The television advertising clearly conveyed through direct visual and audio elements that the savings spanned all stores and merchandise. It also emphasized that the savings even applied to the brand's exclusive new Fifth & Shore, a line of completely customizable outdoor furnishings that was only recently introduced to the consumer market. This signature line lets customers basically design their own patio furniture by enabling them to select from a wide array of furnishings, fabrics, and finishes. In addition to its custom-built appeal, the entire line can be produced and delivered within two weeks. This gives consumers the cachet of customized furnishings without the time and trouble often experienced with custom decor.
To see how MDG promoted the growth of Carls Patio and positioned the company for even greater retail marketing success, click here to view MDG's branding and marketing portfolio.
To implement a cost-effective TV advertising strategy that will increase sales and provide maximum exposure for your retail brand, contact MDG.
MDG, a full-service advertising agency with offices in Boca Raton and New York, NY, is one of Florida's top creative ad agencies. Our 360°integrated approach uses just the right mix of traditional and digital marketing to reach your retail marketing goals. MDG's core capabilities include award-winning print advertising, branding, logo design, digital marketing, media planning and buying, TV advertising, retail marketing, Web design and development, email marketing, social media marketing, and SEO. To stay on top of the latest trends in TV advertising, contact MDG.