MDG Debuts a Richer Website for Benetrends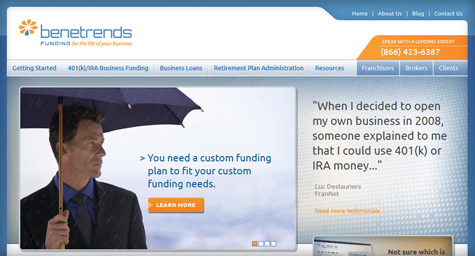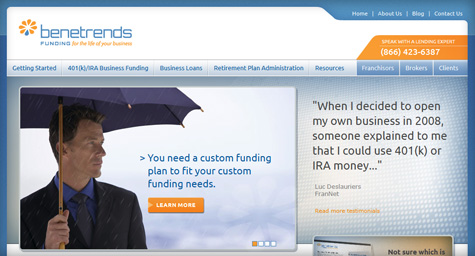 MDG recently had the opportunity to develop and implement a multi-faceted rebranding campaign for Benetrends, a company that's been providing proven and innovative funding solutions for entrepreneurs since 1983. The company is acclaimed for its Rainmaker Plan, which enables small-business owners to finance their companies by accessing their retirement funds.
For this integrated campaign, the MDG team rebranded the company, redesigned the marketing collateral, and has now launched a new search engine-optimized website that features a number of new resources and opportunities for the firm's entrepreneurial clients. The new site design reflects the company's position as the leader in small-business funding. The new website succeeds on many levels, from providing clients with ways to easily access company information to serving as a social networking hub for its vast online presence.
At the onset of the redesign process, MDG listened to Benetrends' goals of restructuring their website to serve as a means of education, motivation, and connection for prospective entrepreneurs. Following that digital direction, our team added the advanced features and functionality needed to make that dream a reality. Now, the Benetrends website has been enriched with expanded content, improved education, and new decision-making tools to provide potential entrepreneurs with the resources they need to answer their questions about starting a business.
Some of these new features include:
"What Type of Funding is Right for Me?" Feature: A tool to discover available funding options and determine the right solution or solutions for their individual needs.
Business Planning Calculator:  An online calculator to assess the funding requirements for launching a business.
Loan Calculator: An online calculator to help compute the resulting loan payments.
Loan Types & Terms Glossary:  A dictionary of important investment terminology and plan options.
General Business Terms Glossary: A list of common industry language.
Find a Business or Franchise Opportunity: A directory featuring a variety of franchise, business, and informational resources.
Retirement Plan Information: A comprehensive guide to Benetrends' retirement plan services.
Referral Log-In Feature: A private area where brokers and franchisors can provide submit and eventually track referrals.
Co-Branded Franchise Funding Option Module: A feature that allows franchise partners to display Benetrends funding options.
Company Blog: A site section with frequently updated news and information about the company.
Social Media Links: Direct access to the company's Facebook, LinkedIn, and Twitter pages.
In the coming months, the Benetrends website will be updated with additional resources and functionality to provide entrepreneurs with even more resources to help them follow their business dreams.
To discover innovative ways to improve your company's Web presence and online marketing strategies, contact MDG.
MDG, a full-service Florida advertising agency with offices in Boca Raton and New York, NY, specializes in developing targeted interactive marketing solutions, exceptional creative executions and solid branding and media buying strategies. Our core capabilities include print advertising, branding, logo design, creative, digital marketing, media planning and buying, TV and radio advertising, customer relationship management, loyalty programs, public relations, Web design and development, email marketing, social media marketing and SEO. View MDG's creative marketing portfolio.