MDG Refreshes gMed's Brand and Develops New Collateral and Website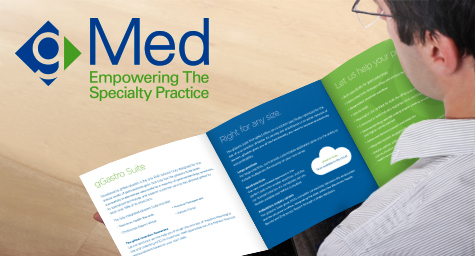 MDG recently developed a branding system for gMed, the leader in specialty-specific EHR software, along with a variety of trade show materials and a completely new website to promote their industry-leading product, the gGastro Suite. Designed to meet the specialized needs of gastroenterology practices, this practice solution is the only gastro-specific EHR platform on the market. Featuring specialized, intuitive technology, the gGastro Suite has been successfully implemented by more than 3500 gastroenterology practices around the nation.
"We developed a branding system to organize gMed's product and service offerings, as well as any new ones," said Michael Del Gigante, creative director at MDG. "A series of trade show collateral and a newsletter were developed to accommodate their immediate communication needs."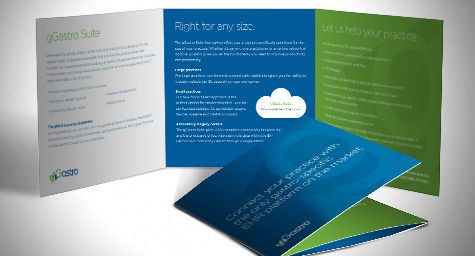 The first was a general product brochure that featured details and distinctions of the gGastro Suite. The brochure explained the specialized uses and benefits of this practical practice product.
Another brochure highlighted how the gGastro Suite had been elevated to convenient cloud technology. It spelled out the added benefits of the new cloud-based approach.
The final component was an insert promoting a special offer to trade-show attendees. The insert conveyed that people who purchased the original gGastro Suite or the new cloud-based version would receive gAdvisor service free for one year.
MDG extended the tone of the new branding system to build a brand-new, user-friendly website for gMed. The new site offers quick and easy access to essential information, including product specifications, case studies, and a wealth of company and resource articles. The brighter, more modern design and revised site architecture work together to provide a clean and simplified experience. New features include a graphical view of individual product features, as well as a downloadable EHR Software Checklist, which provides valuable information for potential customers, along with a host of new leads for gMed.
With these compelling trade show materials and a new website, MDG treated gMed to practice products made perfect.
Discover the latest trends in healthcare marketing. Contact MDG today at 561-338-7797 or visit www.mdgsolutions.com.
MDG, a full-service advertising agency with offices in Boca Raton and New York, NY, is one of Florida's top healthcare marketing companies, whose clients include Dental Care Alliance, MDVIP, Max Planck Florida Institute, Primary Pharmaceuticals, and HCA East Florida. MDG's 360° approach uses just the right mix of marketing media to reach your advertising goals, where traditional, digital, and social media marketing efforts support each other and your message is tailored to the medium. To learn more about the latest trends in healthcare marketing, contact MDG today at 561-338-7797 or visit www.mdgsolutions.com. For a look at the major changes that 2013 has brought to the healthcare industry, see "5 Big Changes That Will Reshape the Healthcare Marketing Landscape Forever."