MDG Takes The Lead With Direct Mail Results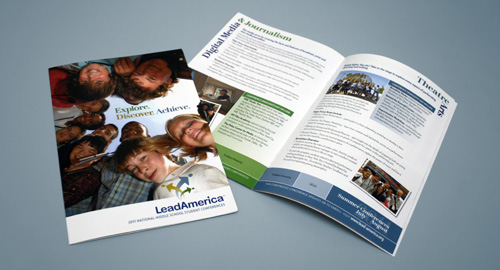 In August 2010, LeadAmerica selected MDG to develop marketing materials that would drive student registrations for their national student conferences. MDG's team determined that the most effective way to promote these educational conferences was by educating its target audience. This was accomplished by designing and producing an informational yet intriguing student/parent direct mail campaign that was mailed to prospective conference attendees and their parents.
MDG had recently rebranded the company to better relate and resonate with its target audience and had redesigned its corporate, digital and marketing communications. These rebranded marketing materials were incorporated into the student/parent direct mail based on their ability to educate, engage and excite recipients. The campaign featured:
A comprehensive brochure with full details on the specialized high school conferences and scholarship opportunities, as well as numerous photos of students engaging in conference experiences
A personalized introductory letter announcing that the student had been invited or nominated to attend a conference, and outlining various program opportunities
A certificate of recognition to express college credit
Application for registration
Envelopes customized to highlight different promotional offers, such as tuition discounts and additional college credit
The direct mail campaign was mailed in late October 2010 and within eight weeks, registration had increased 476%. Just as LeadAmerica's mission is to help students reach their goals, MDG has helped LeadAmerica achieve its goals, and proved that intelligent marketing leadership is the strategy for success.
Michael Del Gigante is president and executive creative director of MDG. MDG, a full-service Florida advertising agency, with offices in Boca Raton and New York, NY, specializes in developing targeted, Internet marketing solutions, exceptional creative direct mail executions and solid branding and media buying strategies that offer clients an integrated marketing approach. To view all MDG corporate identity projects, collateral design, signage, TV and Web design, click here.