MDG Unleashes New Branding and Website for Golden Retrievals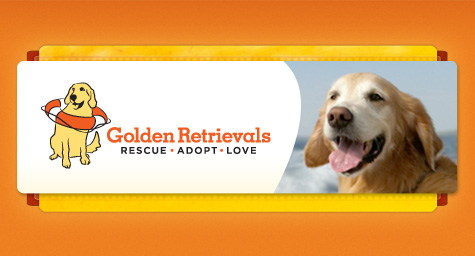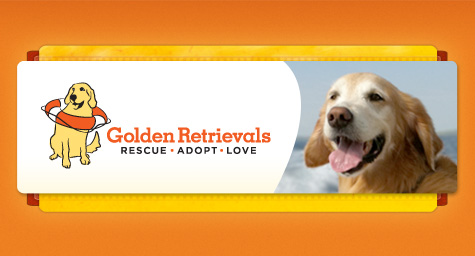 You can't teach an old dog new tricks, but you can provide a dog-rescue operation with a new brand identity. This is exactly what MDG did for Golden Retrievals, a non-profit rescue organization dedicated to the rehabilitation and placement of Golden Retrievers in need. Formerly known as Island Retriever Rescue of the Palm Beaches, the organization was in need of branding and digital development, so our team came to the rescue by providing a brand-new image and a user-friendly website.
"Our goal is to make the community more aware of Golden Retrievals and place our dogs in loving homes," said founder Linda Ripps. "We realize that it takes a recognizable image and a friendly website to reach people and help them reach us."
"After you visit MDG and are greeted by Jack, Mizner, Boogie, or Max—MDG's canine team—you won't be surprised that we took on Golden Retrievals," said Michael Del Gigante, president and executive creative director of MDG. "We're a dog-friendly agency. It's hard to be stressed when there's a Yorkie, Chihuahua, and now occasionally a very large Golden Retriever, vying for your attention. Helping this organization was a labor of love."
For Golden Retrievals, MDG wanted to develop a name that would resonate with the consumer and be easily trackable via search engines. We designed a playful new logo featuring an illustration of a Golden Retriever wearing a life ring, inspired by the founder's first Golden, Max. For the website, our digital team architected and developed a warm, user-friendly design that incorporates the color of a Golden's coat along with a simple, easy-to-navigate layout. The site features informative Web pages, such as Ways To Help, Adoption and Available Dogs, which are easily updateable by the client through a customized admin feature. In addition to handling the advertising and marketing for the philanthropic organization, our team provides content for their blog, which chronicles news and events at Golden Retrievals.
"My relationship with MDG spans 13 years. Their passion and product has always remained steadfast and in line with my philosophies," said Andrew Ripps. "It doesn't matter if it is a major campaign for a Fortune 500 company, a startup, or a not-for-profit organization, their commitment is the same."
It's a real pleasure to work with Golden Retrievals and help the organization get the attention and respect it deserves. Visit Golden Retrievals to learn more.
MDG, a full-service Florida advertising agency with offices in Boca Raton and New York, NY, specializes in developing targeted interactive marketing solutions, exceptional creative executions and solid branding and media buying strategies. Our core capabilities include print advertising, branding, logo design, creative, digital marketing, media planning and buying, TV and radio advertising, customer relationship management, loyalty programs, public relations, Web design and development, email marketing, social media marketing and SEO. View MDG's creative marketing portfolio.
Connect with MDG on Facebook, Twitter and YouTube