MDG's Charlie Ellis Voted Top Speaker Among SEO Specialists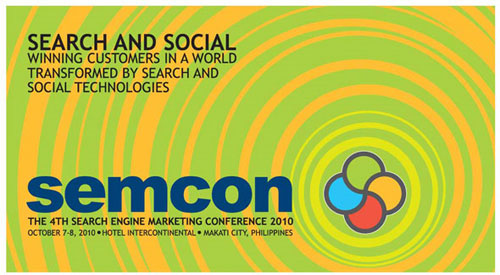 Congratulations are in order for Charlie Ellis, SEO and web analytics specialist at MDG. Charlie was recently a featured speaker at SEMCON 2010, an annual two-day conference on search engine marketing and the SEO industry in the Philippines. On the first day, Charlie spoke about effective ways for companies to maximize their SEO. His outstanding presentation resulted in Charlie being voted Best Speaker for Day 1 based on his knowledge of SEO, presentation skills, engaging manner of speaking and his ability to help attendees learn something new.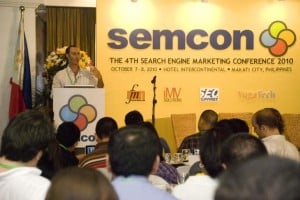 "It was a tremendous honor and privilege to participate in SEMCON 2010 and I was humbled to take the podium in the company of several of my search marketing heroes.  I simply couldn't have asked for a more receptive audience" said Charlie Ellis.
The theme of SEMCON 2010 was Search and Social: Winning Customers in a World Transformed by Search and Social Technologies. As the leading international symposium for social marketing and search technologies, the conference attracted legends in the industry such as Aaron Wall of SEObook.com and Jim Boykin of webuldpages.com. Charlie's excellent performance among such respected and established speakers was an enormous accomplishment. Speakers from Day 1 included:
Aaron Matthew Wall – Founder, SEOBook.com
Jim Boykin – Internet Marketer, WeBuildPages.com
Giovanna Villanueva – SEO Consultant
Bruce Persaud – Country Manager of SeriousTech
Dean Chew – SEO Engineer at Ayima Search Marketing
Benj Arriola – Internet Marketing Inc.
MDG is proud to have Charlie on our team.
Charlie Ellis, is the SEO and web analytics specialist at MDG where he  directs link-building, competitive analysis, digital brand development, and social media initiatives. His ability to articulate resonant marketing messages with power and authority complements his ability to simplify technical SEO skills into actionable insights. He has contributed to several advanced SEO panels at SES, PubCon, SEMCON, SMX East, and IMSB.
MDG, a full-service Florida advertising agency, with offices in Boca Raton and New York, NY, specializes in developing targeted, interactive marketing solutions, exceptional creative executions and solid branding and media planning strategies that give clients a competitive advantage. To view all MDG corporate identity projects, collateral design, signage, TV and Web design, click here.