MDG's New Physician Recruitment Direct Mail for MDVIP Promotes a Bright Future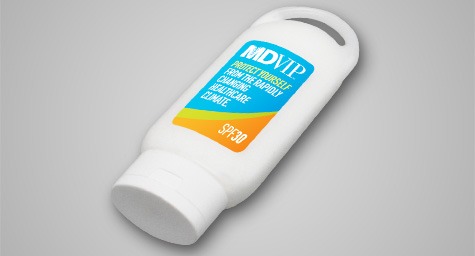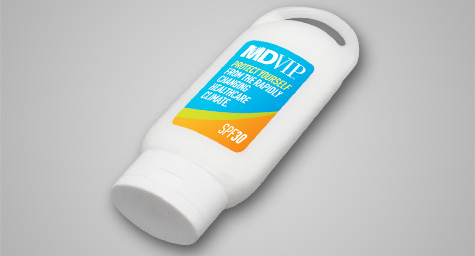 MDG recently took a direct approach to physician affiliation by developing a new direct mail piece as part of our ongoing physician recruitment advertising campaign for MDVIP. As the national leader in personalized, preventive health care, MDVIP regularly hosts informative weekend events to attract eligible physicians to become affiliated with their healthier approach to practicing medicine. MDG promotes each of these events by creating a compelling invitation package that gets physicians excited about MDVIP's opportunity for a better, brighter future.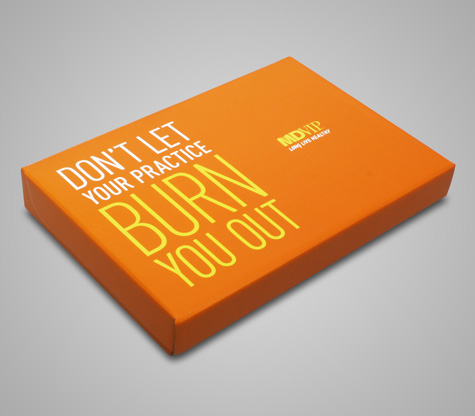 The purpose of this direct mail piece was to recruit physicians into MDVIP by communicating how the company can help them avoid getting burned out in today's healthcare environment. The message was that MDVIP offers a way to protect their practice and their passion while enriching their lives both personally and professionally.
In designing this direct mail concept, our goal was to break through the clutter of traditional direct mail. We realize that physicians are busy and inundated with mailings, so our team wanted to create an invitation that would catch their attention, deliver a compelling message, and reflect the upscale nature of the event.
For its weekend event, MDVIP selected the oceanfront destination of the Boca Raton Resort. Inspired by the tropical locale and the company's philosophy of protecting physicians from the challenging healthcare environment, MDG created our "Sunblock" invitation. The invitation was packaged in an orange box, with the headline, "Don't Let Your Practice Burn You Out." Inside was a full-color invitation with an enticing beach scene on the cover, inviting them to attend the upcoming weekend event to learn more about the MDVIP opportunity. Underneath the invitation was a bottle of sunscreen with a custom label featuring the MDVIP logo and the message, "Protect Yourself From The Rapidly Changing Healthcare Climate."
By using unique creative as a means for the compelling message, physicians took a shine to both the direct mail package and the MDVIP opportunity. This was reflected in the large turnout for the weekend event, which contributed to achieving the campaign's goal of increasing physician recruitment for MDVIP.
MDG, a full-service Florida advertising agency with offices in Boca Raton and New York, NY, specializes in developing targeted Internet marketing solutions, exceptional creative executions and solid branding and media buying strategies that give healthcare clients a competitive advantage. Our core capabilities include print advertising, branding, logo design, creative, digital marketing, media planning and buying, TV and radio advertising, customer relationship management, loyalty programs, public relations, Web design and development, email marketing, social media marketing and SEO. View MDG's creative marketing portfolio.