Messaging App, Line, Redefined as a Social Media Entertainment Platform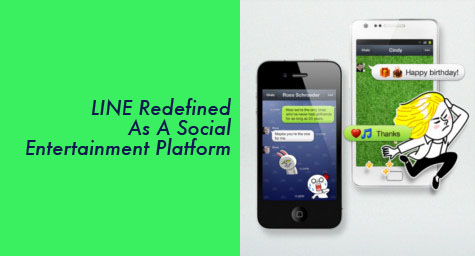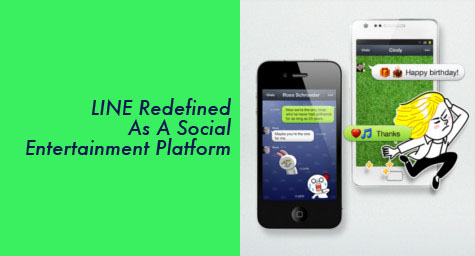 Line has rapidly gained a following of 100 million users since its launch in Asia in 2011. Widely known as a messaging app since it offers free calls and texts, the truth is that Line is more in line with a social media network because it offers a plethora of other apps, games, and services to its users. Now that Line has been in the U.S. market for a year, it sees the chance to position itself as the ideal tool, between general mobile messaging and multi-faceted social networking. Line is pursuing this path by redefining its status along the social media spectrum and targeting dissatisfied Facebook users and Skype fans looking for the next big thing in online calling. TechCrunch.com explained why Line is worth a look.
While Line is certainly appreciated for its free texts and calls, the messaging app is brimming with many more social media-centric features. It offers games for Line users to play with each other, along with a camera that allows for cool special effects, a forum-type Line Café for talking with other users by topic, and access to celebrities via their official Line accounts. Following in the footsteps of Facebook, every Line user has their own personal wall to post photos, videos, updates, and anything else they want to share with their friends.
"Line is more than a messaging app," explains U.S. CEO Jeanie Han. "It's sort of like social media but it's not too open. It's just enough for people to feel comfortable. You get to choose how you want to communicate with your friends and family. You have complete control over that.
This sense of social control is especially important to social media users now since their privacy has become a top priority. This may be Line's strongest selling point since people want to enjoy the communication, camaraderie, features, and fun of social networking but don't want to sacrifice their personal privacy.
Line evolved in Asia by focusing on mobile messaging in order to gain a following for a social network, which is completely opposite of Facebook, which first positioned itself as a social network before expanding into messaging services. Line's strategy has been enormously effective in Asia and the company expects to follow a similar path in the U.S. by promoting Line as a way to make life more fun.
To spread the word about Line as a social media network, it's currently available on numerous mobile platforms and has a Web app for use on PCs, Macs, and tablets. It offers fun stickers to users as part of its marketing mix, with some free and others available as paid in-app downloads. These paid stickers are actually a primary revenue source for Line.
Speaking of stickers, Line is not the only app to offer these fun labels, but the company has spent lots of time and money developing proprietary cartoon characters for its stickers, apps, and games. These characters have evolved into mascots for the brand and have even inspired spinoff merchandise and cult-like followings in Asia. As Line extends its reach into other countries and markets, it's broadening its base of cartoon characters to appeal to the trends and tastes of different audiences, as well as licensing other companies' characters into its hugely popular sticker collection.
These stickers have caused a craze among young users, especially its original target market of 18-to-29-year-old females. The stickers captured the attention of young girls, which led them to start using Line. Then boys followed the girls and soon Line developed a young, hip image which compelled older users to start joining, too.
This strategy allowed Line to amass a huge following in Asia, and this same approach was used to help the app become a hit in Spain. The U.S. market is the company's current target and next will be Latin America.
As Line proceeds with its plan for global domination, the company has no plans to start charging for the app. Instead, its revenue stream will continue to be based on in-app sticker sales and offering accounts to celebrities and brands. These celebrities and brands are given their own Line marketing channels where they can connect and sell directly to users who choose to receive their messages. This allows them to promote themselves and their products in a very unique and direct way.
Now that Line is evolving and expanding in the U.S., the company is focused on changing its status as just a high-tech messaging app and instead promoting itself as a fresh, fun social media platform filled with social features and entertainment value.
"I didn't go into technology. I went from one entertainment industry to another," adds Ms. Han. "I know how to bring happiness and how to market entertainment to people and that's exactly what I'm doing now."
To learn more about leveraging social media, contact MDG.
MDG, a full-service advertising agency with offices in Boca Raton and New York, NY, is one of Florida's top creative ad agencies. Our 360° approach uses just the right mix of traditional and digital marketing to reach your advertising goals. While some industries may fare better in print and others online, we strive to create a balanced approach, where traditional, digital, and social media marketing efforts support each other and your message is tailored to the medium. Our core capabilities include branding, logo design, creative, digital marketing, infographic development, print advertising, radio and TV advertising, online video, Web design and development, email marketing, social media marketing, and SEO. To stay on top of the latest trends in social media, contact MDG.
Read more at Techcrunch.