Microsoft Tests "Hero" Display Ads in Bing Search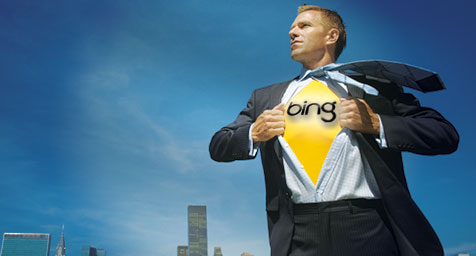 Microsoft recently announced that it is pilot testing showing "Hero" ads—large format display media—in Bing results, a development that could signal the opening up of the search engine to visually rich advertising.
The pilot comes on heels of a similar test by Google, which has been quietly experimenting with displaying large banner ads on certain search result pages since October.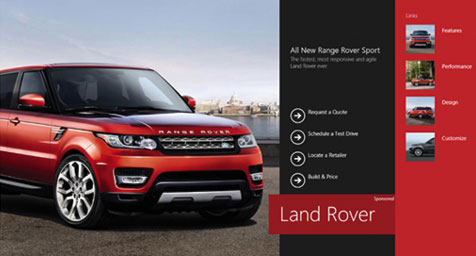 The new ad formats for both search engines are only shown when a user queries certain brand-specific keywords. For example, the ad above is only displayed on Bing pages when people search for terms such as "Range Rover."
Neither company has indicated that it plans to run large display ads on its homepage or other non-query related pages. For now, Microsoft's "Hero" advertisements appear only in Bing Smart Search, the discovery tool built into Windows 8.1.
Microsoft is currently testing the ads with a short list of brands in the U.S., including Land Rover, Jaguar, Home Depot, Norwegian Cruise Line, RadioShack, Hertz, and Volkswagen.
For advertisers, the new formats could mean the line separating search ads and display ads is finally blurred. Instead of having to decide between the utility of search and the emotional power of display, brands may soon be able to pair keyword targeting with visually appealing campaigns.
Implement an online marketing strategy that will increase engagement and drive sales. Contact MDG today at 561-338-7797.
MDG is a full-service advertising agency and one of Florida's top creative ad agencies. With offices in Boca Raton, FL and New York, NY, MDG's core capabilities include branding, logo design, digital marketing, print advertising, mobile advertising, email marketing, media planning and buying, TV and radio, outdoor, newspaper, video marketing, Web design and development, content marketing, social media marketing, and SEO. To stay on top of the latest trends in mobile advertising, contact MDG today at 561-338-7797. It's predicted that U.S. advertisers will spend more than $27 billion on mobile advertising by 2017. For more details, take a look at "U.S. Mobile Advertising Spending Predicted to Rise 77 Percent in 2013."