Millennial Audiences Place the Most Trust in Advertising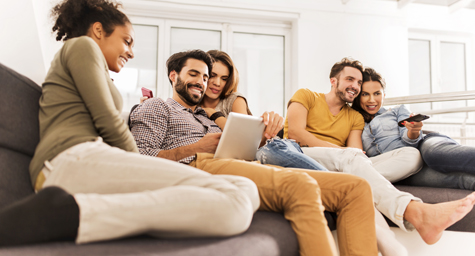 Advertisers aim to earn an audience's trust, but which markets are most trusting of these marketing messages? A new Nielsen report posed this question to audiences worldwide. In addition to finding that trust levels in advertising have stayed generally steady across owned, earned, and paid ad formats since 2014, researchers found that Millennials were the segment that trusted ads the most. And while trust in advertising is typically a precursor to purchase, the study also showed that the levels of action taken on advertising were actually higher than the levels of trust placed in almost two-thirds of the 19 ad formats examined. This showed that while trust can be a catalyst to purchase, it's not always a marketing must. Nielsen.com shared more from the report on audience faith in advertising formats.
The Age of Advertising Trust
According to the survey, Millennials reported the highest levels of trust on almost all 19 advertising formats, including both traditional and digital formats. And these young adults between ages 21 and 34 were also the most inclined to take action on ads in 16 of these 19 formats.
Researchers attributed these results to how Millennials consume media differently than older demographics. These young adults command more control over where, when, and how they view content. They decide their ideal context for content, as well as which device they choose to use.
And even though Millennials grew up in a digital world, they still display high levels of trust in traditional advertising formats like television and newspaper. So while marketers should use an integrated multi-channel approach with every demographic, it's especially important when the goal is to reach Millennials.
Global Placement of Trust
Trust levels for each advertising format differ around the world, with trust levels higher in the developing regions. Latin America showed the highest levels of trust in more than half of the 19 ad formats, with residents placing their enormous trust in both traditional and new media formats. The next most-trusting region was Africa/Middle East, which displayed the highest levels of trust in almost one-third of the 19 online and offline formats. And the Asia-Pacific region demonstrated the highest levels of trust in three of the ad formats, including both mobile text ads and ads on mobile devices. Audiences in all three of these regions said they were also more likely to take action on advertising at least some of the time.
Conversely, European audiences had the most skeptical view of advertising, reporting the lowest levels of trust for all 19 ad formats. They're also least likely to say they take action on nearly all (18 of 19) advertising formats.
And North American audiences had mixed feelings about the trust they placed in ad formats. According to the study, the North American region's trust levels were below the global average for half of the ad formats, yet surpassed the global average for the other half. Plus, North America was the only region where trust was repeatedly higher than the likelihood of action.
The Appeal of Ads Among Audiences
The report also revealed the following:
83% of global respondents said they completely or somewhat trusted the recommendations of their family and friends.
66% of audiences trusted the consumer opinions they found posted online.
Health-oriented ads received the highest ratings in Latin America.
Ads depicting real-life situations were deemed most appealing in the Asia-Pacific and Africa/Middle East regions.
Humorous ads received a better response in Western markets.
Energetic, action-based advertising ads resonated most with younger audiences.
Ads featuring pets and animals played better to older audiences.
Keep up with global trends in marketing. Contact MDG.
MDG, a full-service advertising agency with offices in Boca Raton and New York, NY, is one of Florida's top branding firms. MDG's capabilities include print advertising, direct mail marketing, branding, logo design, creative, media buying and planning, radio and TV advertising, outdoor, newspaper, digital marketing, website design and development, online video advertising, infographic development, email marketing, video marketing, mobile marketing, content marketing, social media marketing, paid search marketing, and SEO. To learn about the latest trends in advertising and branding, contact MDG.