Millennials Are the Ticket to U.S. Leisure Travel Today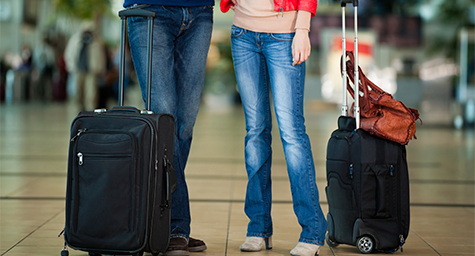 Baby Boomers have been the focus of the travel industry for the past decade because it was believed that they would have more money and time to travel as they got older. But after reviewing results from the 2014 Portrait of American Travelers annual survey by MMGY Global, the industry may want to change its agenda and start concentrating on the up-and-coming Millennial market. This group may only be between the ages of 18 and 35, but the survey expects them to spend incrementally more on travel than any other age group over the next year. As a result, Millennials will be a driving and dominant force in the ongoing recovery of the U.S. travel industry. TravelPulse.com featured more findings from the survey to show why the travel industry should "book it" to target Millennials.
"Six in 10 Millennials would rather spend their money on experiences than material things," said Steve Cohen, vice president of insights for MMGY Global. "This is presumably one of the reasons we've observed the spike in their intentions with respect to leisure travel in the year ahead." He went on to state that Millennials' travel-planning patterns and preferences differ substantially from leisure travelers.
According to the survey, one-quarter of Millennial travelers plan to take more overnight leisure trips in the next year, while only 14% expect to take fewer trips. Along with taking more trips, Millennials plan to spend much more than other generational groups on leisure travel services in the next 12 months.
The survey revealed that these travel trends reflect the importance that Millennials place on their vacation time. Despite their younger age and smaller incomes, Millennials still took more overnight leisure trips than households with annual incomes of more than $50,000.
All of this should come as welcome news to travel agents, especially in light of a prior survey that showed how much Millennials value the services of these travel professionals. Apparently, almost 60% of Millennials who used travel agents believed that their vacations were better than those arranged without their travel expertise.
While Millennials' travel plans may be far-reaching, the places they prefer are much closer to home. The study showed that Millennials were more likely to have taken a "staycation" in the past year than other travelers. And one-third of Millennials had taken at least one vacation within 50 miles of their home, yet also expressed a desire to save money for a more extravagant vacation in the coming year.
With Millennials taking the lead in U.S. leisure travel, the travel industry should strive to accommodate this younger generation and start exploring their vast potential.
Stay on top of travel marketing trends. Contact MDG today at 561-338-7797 or visit www.mdgsolutions.com.
MDG, a full-service advertising agency with offices in Boca Raton and New York, NY, is one of Florida's top branding firms. MDG's capabilities include print advertising, direct mail marketing, branding, logo design, creative, digital marketing, media buying and planning, radio and TV advertising, Web design and development, online video advertising, infographic development, email marketing, mobile marketing, content marketing, social media marketing, and SEO. To learn about the latest trends in advertising and branding, contact MDG today at 561-338-7797 or visit www.mdgsolutions.com.