Mobile Healthcare to Rise 47% by 2020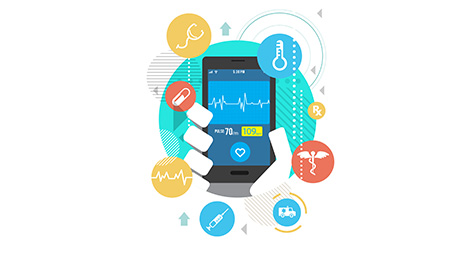 Mobile healthcare has a very healthy outlook in the coming years. According to market research company ReportLinker, the growing popularity of remote health monitoring devices will continue to drive their supply, which is why major advances should bring greater growth to the mobile healthcare market. And experts expect this mobile market to rise by 47% over the next five years. mHealthIntelligence.com explained how mobile healthcare devices will improve how people take care of healthcare.
As Baby Boomers get older and our lifestyle-related medical conditions continue to increase, there is a greater need for healthcare that's both affordable and accessible. And mobile health technology can fulfill these urgent needs.
Consider how many consumers already use their smartphones and iPads to manage their health, nutrition, and fitness.
And many patients opt to store their health information on mobile devices. Then, they're able to show it to their physicians at each medical visit.
Today, this has led to new mobile healthcare devices that let patients easily track both their health and chronic diseases. These devices allow physicians to remotely monitor patients at home.
With our aging and ailing population, it should come as no surprise that the cardiac monitoring device segment is leading the way for the mobile healthcare market. In fact, chronic disease management is a major reason for the growth in remote monitoring devices.
As our healthcare needs continue to rise, mobile healthcare devices will enhance and ease how we handle our health.
Discover what's happening in healthcare marketing. Contact MDG today at 561-338-7797 or visit www.mdgsolutions.com.
MDG, a full-service advertising agency with offices in Boca Raton and New York City, is one of Florida's top healthcare marketing companies and branding firms, whose healthcare clients include Dental Care Alliance, MDVIP, Max Planck Florida Institute, HCA East Florida, Primary Pharmaceuticals, and MD Now. MDG's core capabilities include branding, logo design, print advertising, digital marketing, mobile marketing, email marketing, media planning and buying, radio and TV advertising, outdoor, newspaper, video marketing, infographic development, website design and development, content marketing, social media marketing, and SEO. To learn more about the latest trends in healthcare marketing, contact MDG today at 561-338-7797.