Mobile Hotel Bookings Confirmed to Keep Moving Up in 2015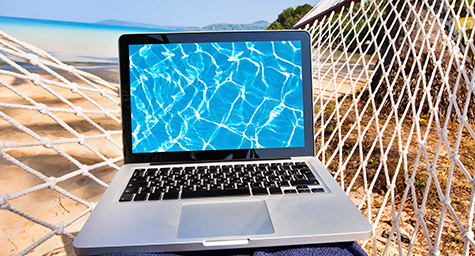 There's no need to have any reservations about mobile's future in hospitality since mobile is expected to account for 35% of online bookings by 2018, according to the November 2014 World Travel Market Global Trends. And this figure doesn't even factor in travelers who are compelled to call by mobile search. Clearly, mobile is becoming a mainstream method for booking travel today, with 58% of respondents to a Google study saying they would be extremely likely to choose a hotel if they could book it via mobile. HospitalityNet.com posted more on this travel trend of using mobile as a means to both browse and book travel.
Hotels Still Hesitate to Welcome Mobile
Now that mobile has become such a mainstay of modern life, more and more travelers are using it for their trip planning. As a result, the revenue potential for bookings from mobile devices is unlimited. Yet the consumer demand for mobile booking is sadly surpassing its availability. In fact, only 45% of global properties currently accept mobile bookings, according to TripBarometer. If properties care for a share of this limitless revenue and want to keep up with their competitors, hesitant hotels better hurry up and catch up with this mobile momentum.
How Much Mobile Means to Hotels
Exclusive mobile visitors add an incremental 48% over desktop in unique monthly visitors, according to a recent comScore report. This means that if a hotel's website can't be viewed via mobile, travelers will visit another hotel site. This will cost the hotel business, revenue, and their competitive position. That's why hotels must make their websites more mobile friendly and optimize them for both browsing and booking.
A Valuable View of Online Reviews
The way for hotels to optimize their site's mobile integrity is with responsive website design. This is especially important when presenting travel reviews since 93% of travelers use online reviews when deciding on travel. These reviews should be easy to read and navigate so they'll add value to the user experience and drive travelers to book with your brand.
According to a 2015 TrustYou travel study, 61% of respondents preferred to read only summarized reviews on mobile devices when making their travel decisions. These summarized reviews filter a range of reviews from numerous travel review sites to provide a general picture of traveler sentiment about a hotel. Mobile viewers can choose to review various aspects of the hotel, such as service, ambiance, amenities, and location. These summarized reviews are often easier to read on the smaller screens, as well as provide quick and concise information to mobile users on the go.
With more and more people using their mobile devices as travel tools, hospitality marketing experts need to provide a user-friendly mobile experience if they want to both stay competitive and keep travelers staying with their hotel.
Learn the latest trends in hospitality marketing. Contact MDG.
MDG, a full-service advertising agency with offices in Boca Raton and New York, NY, is one of Florida's top hospitality marketing companies and branding firms. MDG's core capabilities include advertising, branding, logo design, creative, infographic development, digital marketing, creative media planning and buying, radio and TV advertising, website design and development, email marketing, mobile marketing, content marketing, social media marketing, and SEO. To stay on top of the latest trends in hospitality marketing and advertising, contact MDG.