Mobile is the Go-To for Luxury Travel Booking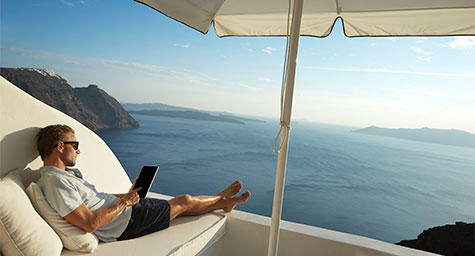 Luxury travelers have the luxury of booking travel any way they wish, yet more and more are using mobile devices to browse and book their trips. A recent report by Expedia Media Solutions and comScore revealed that 52% of luxury travelers are likely to book a trip on a smartphone in the next year, compared to the average 29% of overall travelers. The report also showed that 156 million consumers had engaged with digital travel content on a variety of devices from desktop to mobile over the past year. This drove home the fact that while mobile has become a mainstay, it's just one of the many digital devices that luxury travelers use for planning. And it served as a reminder that travel brands need an integrated, cross-platform marketing plan to ensure that they engage all audiences through every stage of their planning journey. LuxuryDaily.com featured more from the study.
Mobile is a Hot Destination
Mobile has rapidly taken off with luxury travelers, with 62 million consumers accessing travel sites exclusively on mobile devices in 2014. They favor its ease of use, specialized content, and special offers that can be accessed anywhere and at any time. Today, luxury and business travelers engage with travel content on a smartphone before trips more than any other segment, especially when shopping for airfare, finding hotels, and planning activities. With more and more luxury travelers making mobile a part of their travel journeys, travel brands need to enhance their online properties and optimize their mobile experience to ensure that luxury travelers have a memorable  mobile experience.
Stay with a Cross-Platform Marketing
While mobile visits by the luxury market are undoubtedly increasing, travel brands need to realize that desktop remains a large portion of their online travel views, especially during the planning process. Consider these discoveries from the report:
Luxury customers use an average of 3.96 digital sources when planning trips, compared to the average 2.7 sources used by general consumers.
Consumers using PCs tended to make more monthly visits and spend more time on travel websites, mainly due to higher engagement.
33% of luxury travelers sought out all kinds of digital travel content a on a weekly basis.
Luxury travelers used digital travel sites for entertainment much more frequently than other consumers.
Luxury travelers were the most likely to intentionally click on an ad on any type of digital device.
Browsing of travel sites peaks at 8 p.m. across all devices, driven mainly by a surge in tablet use.
"The growth and scale of today's mobile audience further illustrates the need for brands to implement a diversified cross-platform marketing strategy to effectively engage key audiences across devices throughout the travel planning process," said Matthew Reichek, senior director, product & site planning at Expedia. "There's an incredible opportunity to reach them across devices and throughout the travel planning process, but you have to understand those use habits and variances."3
Discover strategies for staying on top in mobile travel marketing. Contact MDG.
MDG, a full-service advertising agency with offices in Boca Raton and New York, NY, is one of Florida's top hospitality marketing companies and branding firms. MDG's core capabilities include advertising, branding, logo design, creative, infographic development, digital marketing, creative media planning and buying, radio and TV advertising, Web design and development, email marketing, mobile marketing, content marketing, social media marketing, and SEO. To stay on top of the latest trends in travel marketing and advertising, contact MDG.