Mobile Marketing Ringing Up More Buyer Phone Calls for Businesses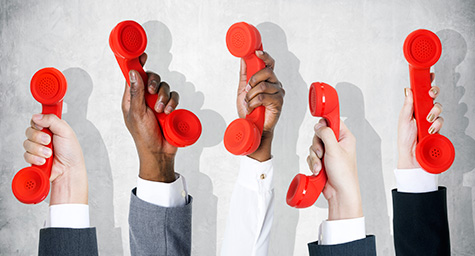 Businesses are getting a wake-up call on the value of the telephone call. Today, more and more high-intent buyers are calling companies directly, rather than trying to reach them through digital channels. And it's mobile marketing that's prompting this rise in consumer calls, according to the Call Intelligence Index published by Invoca. This study examined more than 32 million telephone calls placed to businesses across 40 industries last year. It found that mobile marketing is driving more telephone calls to companies and resulting in more conversions. MediaPost.com featured more from the study to show how mobile is calling consumers to call.
Why Businesses Need to Answer the Call of the Phone Call
Even in our digital age, nothing compares to the personal interaction of a phone call. According to the report, voice conversations are the most instrumental and influential interactions in the buyer's journey. In fact, three-quarters of consumers say that a phone call is the fastest way to get a response from a business. Yet most companies continue to overlook and underestimate the personal phone call, instead depending on online forms to get inbound leads.
But data shows that companies that facilitate phone calls gain a competitive advantage by allowing customers to advance through the purchase process simply and seamlessly.
The Connection Between Mobile and Telephone
With the ubiquity of mobile usage, the study showed that mobile marketing drives 54% of all telephone calls to businesses, with mobile search marketing responsible for 45% of these calls. In comparison, online channels drive 30% of inbound calls. And industries using mobile advertising increase both their call volume and conversions.
Top Telephone Trends
A rise in calls directly relates to an increase in conversion opportunities. The report revealed:
75% of all telephone calls to businesses come from a mobile phone. As more marketers optimize their digital content for mobile viewing, this call volume should rise even higher.
The average call lasts 16 times longer than an online interaction.
Businesses report the highest overall call volume on Tuesdays, especially mobile call volume. Once a business knows it peak telephone call times, it can target consumers with call-based ads and increase sales staff to correspond to these peak periods.
Consumers clearly crave the traditional connection of a telephone call, but often need more modern mobile marketing to prompt them to pick up the phone. Once marketers realize this multi-channel connection, they can develop a mobile marketing strategy that dials up calls for the business.
Find the answers for mobile marketing. Contact MDG.MDG, a full-service advertising agency with offices in Boca Raton and New York, NY, is one of Florida's top branding firms. MDG's core capabilities include print advertising, direct mail marketing, branding, logo design, creative, digital marketing, me
dia planning and buying, radio and TV advertising, website design and development, online video advertising, mobile advertising, email marketing, content marketing, social media marketing, and SEO. To learn about the latest trends in advertising and branding, contact MDG.