Mobile Spurs Digital Coupon User Growth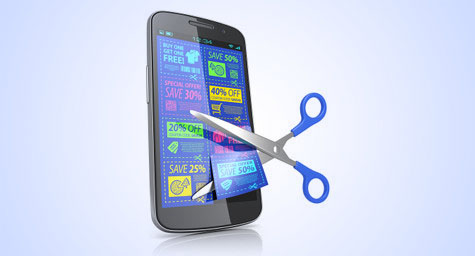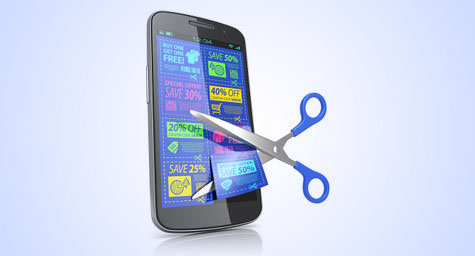 Digital coupons have proven to be increasingly popular with consumers due to both the rapidly rising use of mobile devices and the volatile economy. Even as economic conditions have gradually started to improve, the use of digital coupons has continued to be a frequent occurrence among today's cost-conscious consumers. eMarketer.com reported on the statistics behind this digital dollar-saving sentiment.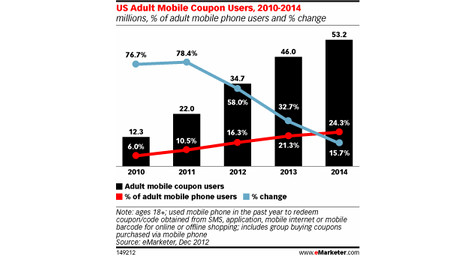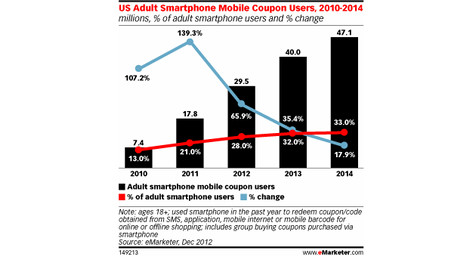 In recent years, consumers have gotten comfortable with accessing coupons from PCs and are just now just beginning to become familiar with redeeming coupons on mobile devices like smartphones and tablets. In 2012, 92.5 million U.S. consumers redeemed a digital coupon. By 2014, eMarketer predicts that more than 100 million digital coupons will be exchanged. While traditional print advertising remains the primary vehicle for coupon clippers, digital coupon usage is expected to grow steadily over the next few years, with mobile coupons driving most of that growth.
The beauty of mobile devices is that they allow consumers to find coupons while on-the-go or even in the store. They can conveniently be delivered in a variety of ways, including special coupon apps, SMS offers, QR codes, and email promotions. In addition, daily deal websites regularly feature mobile coupons for local businesses. These options have greatly expanded the possibilities and popularity of digital coupons and are expected to be major factors in their growing appeal and acceptance.
To learn more about the power of mobile marketing and how to leverage the expected growth of digital coupon usage for your brand, contact MDG.
MDG is a full-service advertising agency and one of Florida's top digital marketing companies. With offices in Boca Raton, FL and New York, NY, MDG specializes in developing integrated 360° marketing solutions that give clients a competitive advantage. Our core capabilities include branding, logo design, digital marketing, print advertising, mobile marketing, email marketing, media planning and buying, TV and radio, online video, website design and development, content marketing, social media marketing, and search engine optimization (SEO). To stay on top of the latest trends in marketing and advertising, contact MDG.
Read more at emarketer.com.