Modern Magazine Machines May Herald A New Print Revolution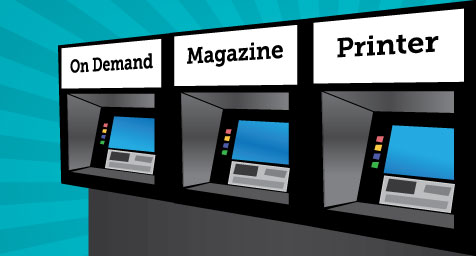 Despite the explosion of digital media, print has retained its popularity throughout the world. Some think that print has survived, and even thrived, because it's evolving with the trends and times to leverage digital advances for its traditional format. The latest of these digital developments to propel print even further is a new print-on-demand newsstand that can print more than 200 magazines and journals in real-time using Ricoh digital technology. Printweek.com featured details on this innovative invention that may turn the page on a new age of print.
The concept was created by Swedish journalist, Lars Adaktusson, along with his brother Hans, for their company Meganews Sweden. It was developed in response to research that revealed that 60% fewer greenhouse gases are produced when magazines are printed by kiosk than through conventional methods. Then, the brothers brought their vision to life by calling on Ricoh for the technology and tapping Sweco for the software, terminal, and screens. Now, these modern magazine vending machines are being tested in airports and supermarkets in Sweden and may be rolled out in the UK.
To use the machines, consumers choose magazines on a digital screen and purchase their picks with a credit card. Once the machine has received their request, it starts printing the pages with a special Ricoh digital press. And in less than two minutes, a freshly printed magazine is dropped down the hatch into the customer's hands.
The magazines printed on these modern machines have the exact same contents and glossy appeal as versions printed conventionally. Consumers can also purchase special editions and archived magazines that are stored on the system.
In addition to being convenient for customers, these magazine kiosks reduce the impact on the environment and lower the publishers' costs for distribution, transportation, and overall logistics.
"This product responds to the growing need for on-demand printing," explained Ricoh Europe director of business development Graham Moore. "It is also an example of true innovation and we are proud Ricoh's leading technology is contributing to magazine production of the future."
Keep up with pressing issues in print. Contact MDG.
MDG, a full-service advertising agency with offices in Boca Raton and New York, NY, is one of Florida's top creative ad agencies. Our 360° integrated approach uses just the right mix of traditional and digital marketing to reach your advertising goals. MDG's core capabilities include award-winning print advertising, branding, logo design, creative, digital marketing, media planning and buying, radio and TV advertising, outdoor advertising, Web design and development, email marketing, social media marketing, and SEO. To stay on top of the latest trends in marketing and advertising, contact MDG. To discover more about print magazine readership in today's age of digital media, take a look at "Condé Nast Study Finds Magazine Readership Growing Among Millennials."