Moms Aren't Kidding About Their Love of Watching Online Video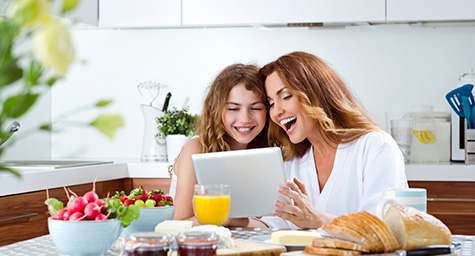 Today's moms are really big on digital video. In fact, a new study emphasized the popularity of video viewing among all generations of moms. It revealed that more Millennial moms are craving customized, portable, enlightening, and sharable video viewing options. It also showed that more moms than ever are viewing videos on their mobile devices, whether watching videos on YouTube or checking out quick clips on Vine. For a view of what moms want to watch and what they value in their videos, MediaPost.com shared how online video appeals to a mother lode of moms.
Moms of All Ages Cry Like a Baby for Videos
Watching videos online has become a favorite activity of all generation of moms, with 25% of these mothers watching videos every day. These moms tend to tune in to "how to" videos and product reviews for the information they offer. While most moms search to see entertainment videos on YouTube, "how to" videos rank as second in popularity among the mom market. While YouTube remains a frequent and favored site for moms to view online videos, Amazon also gets moms' attention with 86% of them watching product videos and others on the channel.
Millennial Moms Are the Poster Children of Video Viewers
Born and raised in the digital age, it should come as no surprise that Millennial moms are the largest group of online video viewers. In addition to watching videos, they are also uploading their own. The content of the videos they upload focuses on family time and special shared moments. Get a view of how Millennial moms tend to view:
65% watch a YouTube video every single week.
55% view YouTube videos several times each week.
24% watch YouTube videos on a daily basis.
64% subscribe to YouTube channels, in comparison to 54% of Gen X moms.
Nearly 35% upload their own video to YouTube at least once each month.
While YouTube and Amazon are most popular with Millennial moms, many also watch hours of video on Facebook. They favor Facebook for fashion and beauty videos, humorous clips, and music videos.
Online Video Marketing to Moms
Marketers need to realize that videos are a direct connection to every market of moms. With so many moms tuned in to online video, digital marketing professionals have a captive audience ready to receive their messages.
Since moms make most of the purchase decisions, marketers should leverage video in their online marketing to reach moms of every age and interest. After all, more and more moms are watching product reviews on both video channels and brand websites when choosing which products to buy.
These moms are actively looking for educational, engaging, and enjoyable video experiences. They tend to find the most value in online video reviews from real-life moms, but also look to the opinions of trusted bloggers and influencers who focus on family life.
The wisest online video marketing strategy is to place a variety of product reviews, how-to videos, and other mom-centric content on a number of video channels. Since different moms favor certain channels, this will ensure complete coverage of every market of moms.
As you can see, video has become a very valuable vehicle for reaching and resonating with moms. Marketers should use this digital marketing option to grow their business with moms.
Learn the latest tips and tactics in digital marketing. Contact MDG.
MDG, a full-service advertising agency with offices in Boca Raton and New York, NY, is one of Florida's top marketing companies and branding firms. MDG's core capabilities include advertising, branding, logo design, creative, infographic development, digital marketing, online advertising, creative media planning and buying, radio and TV advertising, website design and development, email marketing, content marketing, social media marketing, and SEO. To stay on top of the latest trends in marketing and advertising, contact MDG.