More Advertisers are Making the Call for Mobile Advertising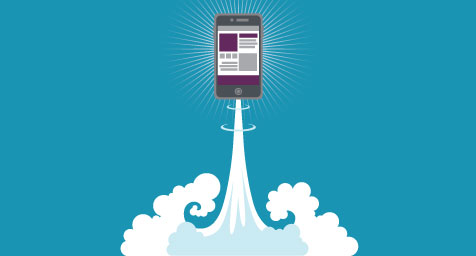 It's been a slow climb for mobile advertising, but the medium is finally gaining ground. The Interactive Advertising Bureau (IAB) estimates that mobile ad spending in the U.S. totaled $3 billion in the first half of this year. That's more than twice the $1.2 billion reported for the same period a year earlier. These numbers suggest that brands are overcoming their reluctance to dive into mobile advertising. The Wall Street Journal reports that mobile ad spending more than doubled in the first half of 2013, compared to the first half of 2012.
Encouraging news comes from Unilever, one of the first advertisers to embrace mobile advertising. The maker of Dove and Hellman's Mayonnaise predicts that its spending on mobile this year will ultimately triple that of last year.
Mondelēz International, another early mobile ad adopter, says it, too, will spend more aggressively on mobile advertising. This year, the company responsible for brands like Nabisco cookies and Trident gum plans to devote 10% of its global ad budget to mobile efforts.
So why have advertisers held back on mobile advertising? Fear of alienating consumers, for one thing. A Forrester Research study last year found that 70% of consumers surveyed considered in-app ads "interruptive." Two-thirds found them more "annoying" than TV ads.
In addition, while statistics show that consumers are spending more time on mobile, the industry is still working to establish ways to measure audiences and track consumers. Not counting time spent talking, consumers are expected to spend an average of two hours and 21 minutes per day on smartphones and tablets this year. That's an impressive increase over the 24 minutes per day spent in 2010. But cookies, widely used to track consumers browsing the Web, don't work on mobile devices.
Although mobile ad prices remain lower than online ads, for now, Melissa Parrish, a Forrester analyst, predicts that mobile advertising numbers will climb once more effective standards are in place. "It's still an emerging medium," says Parrish. "There's a learning curve and technology curve."
Dana Anderson, senior vice president of marketing strategy and communications for Mondelēz cautions marketers not to hesitate too long, though. "Marketers who wait to jump into the mobile pool until the last minute will find their competitors swimming like Michael Phelps while they're still wearing water wings at the shallow end."
To learn how to capture the mobile market for your brand, contact MDG today at 561-338-7797 or visit www.mdgsolutions.com.
MDG is a full-service advertising agency and one of Florida's top creative ad agencies. With offices in Boca Raton, FL and New York, NY, MDG's core capabilities include branding, logo design, digital marketing, print advertising, mobile marketing, email marketing, media planning and buying, TV and radio, outdoor, newspaper, video marketing, Web design and development, content marketing, mobile marketing, social media marketing, and SEO. To stay up to date on the latest trends in mobile advertising, contact MDG today at 561-338-7797 or visit www.mdgsolutions.com. To see how mobile is making its mark on the world, take a look at "How Mobile is Taking Over the World."