More Than 1 Billion Smartphones Shipped in 2013 Make Mobile Marketing a Must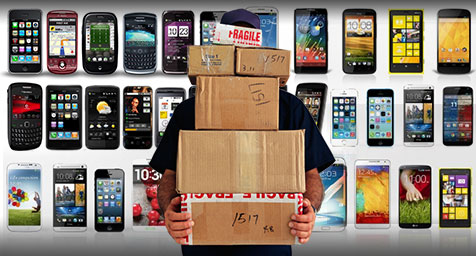 Today's on-the-go lifestyles ensure that our mobile devices are always either on-hand or in-hand at every moment of the day. The world is definitely dependent on digital devices and the International Data Corporation (IDC) gave additional proof of our addiction by reporting that more than one billion smartphones were shipped in 2013. That's almost 40% more smartphone shipments than in the previous year. Consumers clearly can't get enough of their digital devices and continuously crave the latest smartphones and tablets. So since consumers always have digital devices within reach and marketers are focused on reaching consumers, it appears that mobile is the surest and straightest way to reach these consumers. The Washington Post featured more on how the demand for digital devices, as seen by the staggering number of smartphone shipments, makes mobile a must in online marketing today.
While tablets continued to experience enormous sales and popularity, smartphones made up the majority of mobile shipments in 2013 with a 55% share of shipments. This was a significant increase from the 41.7% share of shipments that smartphones comprised the previous year.
So while some industry insiders have forecast that the future of mobile is tablets, it seems that smartphones have held on to their hold on the mobile market. This was further proof that marketers must optimize all of their digital marketing efforts, from Web ads to emails to social media, for viewing on smaller screens of all sizes.
This staggering growth in smartphone sales has been attributed to both the trend toward larger sizes of smaller screens and the lower costs of scaled-down devices.
"Of the two, I have to say that low cost is the key difference maker," said IDC program director Ryan Reith. "Cheap devices are not the attractive segment that normally grabs headlines, but IDC data shows this is the portion of the market that is driving volume."
Apparently, emerging yet enormous markets like China and India are heavily demanding smartphones under $150. The demand was so great that these lower-priced devices comprised the majority of smartphone shipments last year. Clearly, consumers in emerging markets simply want to share in the mobile experience. As a result, those billions of buyers are making up the greatest share of smartphone shipments.
Brands that market to emerging countries need to keep this in mind when developing their online branding strategies. These scaled-down devices may not support the more advanced applications and high-tech graphics being developed today, so marketers must design their digital efforts to be compatible with a full range of smartphones and tablets.
And since the smartphone segment seems to get more competitive each day, the IDC identified the brands that were most in demand with these smartphone shipments. Samsung held on to the top position with almost one-third of the smartphone market to ship approximately 313.9 million smartphones last year. Apple followed in the second spot with a 15.3% share of the smartphone market and a shipping total of 153.4 million smartphones.
Today, smartphones are ringing up heavier sales than ever and the world is calling for more basic mobile devices. As a result, companies need to make mobile marketing at least a part, if not a priority, in their digital strategies. They must also strive to develop, design, and display their digital efforts in ways that are viewable and valuable on every type of screen and to every type of consumer. It may take a little effort, but it will make a major digital difference and lead to a world of mobile marketing success.
Discover how mobile marketing can make a major impact on your business. Contact MDG today at 561-338-7797 or visit www.mdgsolutions.com.
MDG, a full-service advertising agency with offices in Boca Raton and New York City, is one of Florida's top branding firms and content marketing agencies. MDG's core capabilities include branding, logo design, print advertising, digital marketing, mobile advertising, email marketing, media planning and buying, TV and radio, outdoor advertising, newspaper, video marketing, Web design and development, content marketing, social media marketing, and SEO. To discover the latest trends in advertising and branding, contact MDG today at 561-338-7797.