Movie Ad Campaign Plays To Dual Audiences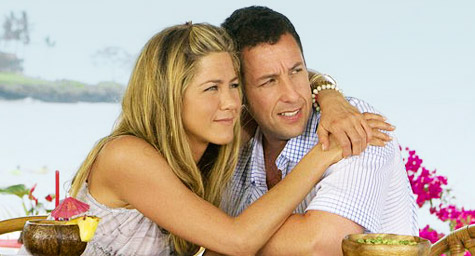 Sony's advertising campaign for its new movie, "Just Go With It", is trying to please all of the audiences all of the time, according to a recent article in the Los Angeles Times. Some commercials portray the Jennifer Aniston film as a smart romantic comedy for women, while other ads depict the movie as a raunchy Adam Sandler film co-starring a bikini-clad model.
So what's the real story behind Sony's double-barreled marketing strategy?
While movie studios have been known to use various marketing techniques to promote a film, Sony's approach to marketing "Just Go With It" shows how pitches for the same movie can be completely different in order to court two distinct audiences.
With the movie opening on Valentine's Day weekend, marketing it as a romantic comedy was an attempt to deliver box-office gold. Last year, the aptly-titled romantic comedy "Valentine's Day" earned $56.3 million over the holiday weekend, eventually grossing $110 million worldwide. In 2005, Sony's romantic comedy "Hitch" grossed $43.1 million while 2004's "50 First Dates" opened to $39.9 million.
Yet Valentine's Day weekend doesn't always fare well for romantic comedies, such as 2009's "Confessions of a Shopaholic," which may be why Sony is marketing the movie not only as a chick-flick, but also as a bawdy comedy for a mass audience.
The $80 million "Just Go With It" was one of many movies advertised before, during and after the Super Bowl. The male-targeted ads featured bikini-model Brooklyn Decker with a male announcer advising guys to tell their girlfriends the film is really a romantic comedy. In fact, Sony believes the film is a romantic comedy but is trying to attract as wide an audience as possible, including guys who love the crude comedy of Adam Sandler.
While Sony's Super Bowl ads captured most of the media attention, the studio is trying to balance the equation by showing ads that focus on Jennifer Aniston's character during shows aimed at women on the Oxygen and Lifetime networks.
With Sony's two-pronged marketing approach, it will be interesting to see if "Just Go With It" makes audiences just go see the movie.
MDG, a full-service Florida advertising agency, with offices in Boca Raton and New York, NY, specializes in developing targeted Internet marketing solutions, exceptional creative executions and solid branding and media buying strategies that give clients a competitive advantage.
Our core capabilities include advertising, branding, creative, digital marketing, media planning and buying, TV and radio, public relations, Web design and development, email marketing, social media marketing and SEO. To view MDG's portfolio, click here.