Museum Store Sales Up 76%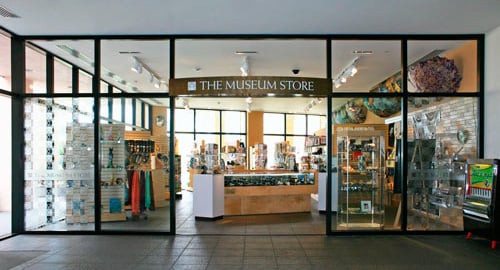 Define the store's entry and visitors will shop!
The Boca Raton Museum of Art wanted to attract more visitors to the one-of-a kind merchandise in its gift store, which was located right next to the museum's lobby. "Because the lobby flowed directly into the gift store, visitors had no sense of arrival," said Michael Del Gigante, president and creative director of MDG. "So we designed cost-effective signage and environmental graphics that define the store's entrance and welcome the visitor. Now people know they're walking into a store and are ready to shop." In fact, purchases have risen exponentially, with gross sales up more than 76% and the average sale per visitor increasing by nearly 60%. Now that's a gift in itself.
To increase the store's visibility, MDG's creative team designed an archway over the door boldly displaying "The Museum Store" name, added etched-glass signage to the sides of the door to visually steer visitors inside, enhanced the store's visual elements to stay consistent with the Museum's brand, and created print ads and online features to promote the eclectic merchandise, which includes exhibition catalogues, artisan jewelry, home and holiday décor, posters, books and more.
For more information visit www.bocamuseum.org
MDG handles all creative advertising, collateral design, transit advertising and media buying for this enriching, non-profit cultural institution in Boca Raton, Florida
Michael Del Gigante is president and executive creative director of MDG in Boca Raton, Florida. MDG, a full-service South Florida advertising agency with offices in Florida and New York, specializes in developing targeted Internet solutions, exceptional creative executions, and solid branding and media buying strategies that give clients a real competitive advantage.
Discover the benefit of strategic marketing. Call MDG at 561-338-7797 or log on to www.mdgsolutions.com.