National Spot Radio Advertising Up In 2010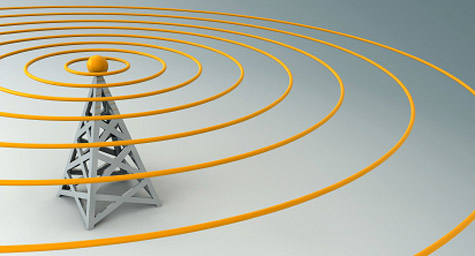 After a gloomy 2009, National Spot Radio enjoyed a 17.7% increase in 2010, according to RBR.com. The leap was driven by strong demand across auto, consumer products, telecomm, retail, entertainment and the run-up to November's elections.
Will 2011 maintain that momentum?
While January's severe weather disruptions in major media markets had caused National Spot Radio to be flat in the beginning of 2011 compared to Q1 of last year, Katz Radio Group pacing data reports strong momentum for February and March with pricing higher measured by Average Minute Rates. In fact, Katz has seen Average Minute Rates gain 1.2% in Q1 as measured by pacings compared to the same time last year. Momentum is increasing every month, with February pacing ahead 5.8%, and March pacing up 10.1%
Most impressive is the growing auto category, which was up 27.4% in 2010, yet already paced up to 73.4% in Q1 of 2011. Telecomm also made a strong showing, up 21.3% last year. Still, other categories like entertainment and retail are progressing slower in Q1 due to later placement and the shift of media dollars.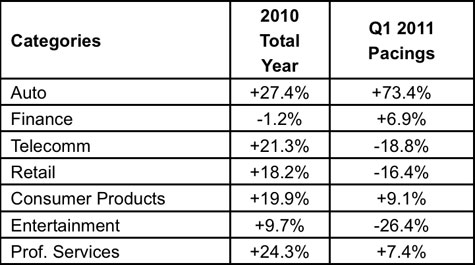 The 2010 recovery of National Spot Radio brought every market segment up by double-digits. As Q1 unfolds, many of the country's individual markets are growing, while some of the larger markets have been hurt by the weak January. Fortunately, February and March are already pacing ahead in each segment.
Strong gains were reported by every region in the country in 2010, most notably the 20.3% gain by the Southeast and the 18.9% gain by both the North Central and South Central regions. In 2011, Q1's pacing is a mixed bag with the North Central and Southeast regions showing the greatest gains with other regions pacing lower than last year.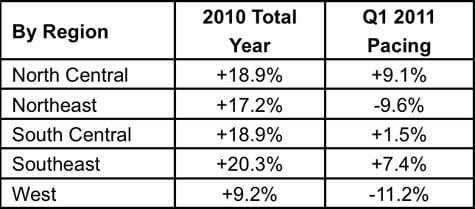 Overall, 2010's robust recovery bodes well for radio advertising in the new year and the positive outlook is music to everyone's ears.
MDG, a full-service Florida advertising agency, with offices in Boca Raton and New York, NY, specializes in developing targeted Internet marketing solutions, exceptional creative executions and solid branding and media buying strategies that give clients a competitive advantage.
Our core capabilities include print advertising, branding, logo design , creative, digital marketing, media planning and buying, TV and radio, public relations, Web design and development, email marketing, social media marketing and SEO. To view MDG's portfolio, click here.