Foursquare's Redesign Makes Checking in Stickier and More Social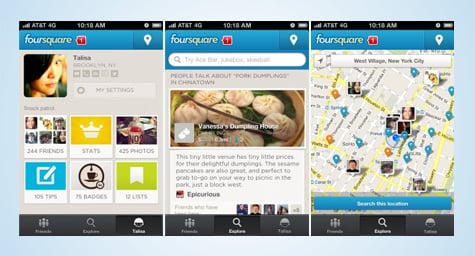 Foursquare, the popular location-based social media app that enables people to use their smartphones to connect with local businesses, has completely redesigned the look of its mobile app. Industry insiders had speculated about the mobile makeover, which is intended to enhance interaction among users. Techcrunch.com provided details about the new face of Foursquare.
This updated version of the Foursquare app is much more user friendly and streamlined. The new layout of the home page is more welcoming and engaging. It encourages users to explore their friends' latest activities and spend a greater amount of time searching the site. Profile pages have been revamped to prominently display each user's photo, bio, location, and other facts to make their personal information more instantly accessible.
The location aspect of the app has also been changed to feature a more modern-looking map providing real-time information on friends' locations. In addition, there is more prominent placement of users' opinions and third-party reviews about check-in locations. This is intended to boost Foursquare's competitive position against more review-centric sites and make the site experience stickier.
Overall, the new layout provides a friendlier and more engaging user experience. This will undoubtedly help Foursquare maintain its competitive edge against the rise of daily deal sites, as well as popular social media networks that have begun to integrate check-in features of their own.
This transformation is being deemed as a savvy strategic move that will likely appeal to all Foursquare users on the move.
To learn more about mobile marketing, contact MDG today at 561-338-7797 or visit www.mdgsolutions.com.
MDG, a full-service Florida advertising firm with offices in Boca Raton and New York, NY, specializes in developing targeted Internet marketing solutions, exceptional creative executions and solid branding and media buying strategies that give clients a competitive advantage. Our core capabilities include branding, logo design, creative, online marketing, print advertising, media planning and buying, TV and radio, Web design and development, email marketing, mobile marketing, content curation, social media marketing and SEO.
Read more at techcrunch.com.