Nestlé is the First Brand to Indulge in Streaming Periscope Content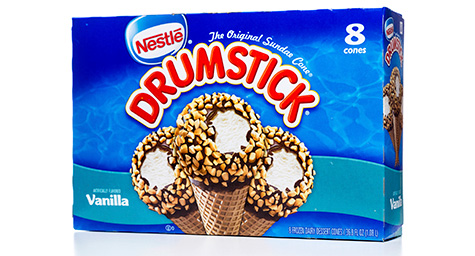 I scream, you scream, we all scream for live streams! That's how Nestlé hopes consumers will feel after viewing their new Periscope livestreaming campaign for their Drumstick ice cream brand. Periscope is a livestreaming video app recently acquired by Twitter that allows users to live stream video with the push of a button. Some social media influencers are have become popular Periscope personalities with a huge social media following. While Twitter has yet to offer Periscope ads, Nestlé scoped out a solution by creating a Periscope video campaign comprised of social media video clips to promote their Drumstick ice cream cones. This makes Nestlé the very first brand to develop a sponsored Periscope stream. Adweek.com shared more on the campaign that is ushering in a whole new scope of Periscope brand marketing.
Sharing the Scoop on Summer
Nestlé launched their campaign in honor of the Summer Solstice last Sunday by livestreaming a steady stream of video clips about their Drumstick ice cream brand. The company brought in social media influencers to broadcast nostalgic summertime scenarios to their many social followers. These scenes ranged from beaches and backyards, to theme parks and New York City streets.
Each stream included the hashtag #ad in the video's title to distinguish that it was sponsored, which resembled how past social promotions have been handled by social media influencers.
A Sweet Double Deal
In addition to attracting Periscope viewers, the company tweeted links to the real-time broadcasts and also brought in another 100 Twitter influencers to tweet about Drumstick ice cream cones throughout the weekend.
A Refreshing New Social Media Marketing Method
Today, livestreaming is gaining momentum with other major brands, but Nestlé is the first to create a sponsored Periscope stream. The concept is piquing the interest of more and more marketing experts as they see how the power and popularity of social media influencers can work wonders for a brand.
As more brands have success with livestreaming, watch for more social media marketers and influencers to sink their teeth into the concept.
Get the latest updates on social media marketing. Contact MDG.
MDG, a full-service advertising agency with offices in Boca Raton and New York, NY, is one of Florida's top branding firms. MDG's core capabilities include print advertising, direct mail marketing, branding, logo design, creative, digital marketing, media planning and buying, radio and TV advertising, Web design and development, online video advertising, email marketing, content marketing, social media marketing, and SEO. To learn about the latest trends in advertising and branding, contact MDG.