New Advertising Campaign Urges New York State to Change Campaign Financing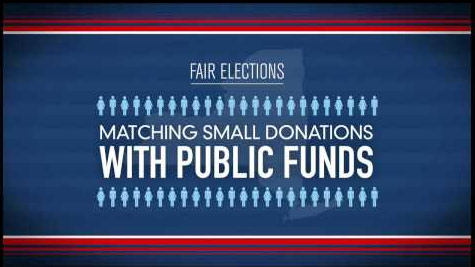 A new advertising campaign has taken on the lofty goal of trying to change Albany's political fundraising laws during the year's legislative session. The main message of the ad campaign is that political fundraising needs to represent what New Yorkers really want rather than what politicians think they deserve. The New York Times reported on this attempt to persuade lawmakers to pay attention to the people.
The initiative is backed by various political organizations, including Citizen Action of New York, Friends of Democracy, the Public Campaign Action Fund, and the Working Families Party. A series of rallies is scheduled this week in Albany, Syracuse, New York City, and the Mohawk Valley to boost public awareness and support. In addition, more than 100 house parties are planned for next week, along with numerous meetings on college campuses expected in the coming month.
The ad campaign includes a 30-second TV commercial scheduled to air over the next two weeks. The TV ad focuses on how political campaigns are controlled by big money and that New York citizens are being ignored by government. Additional ad components include online advertising and direct mail. The entire advertising campaign is costing $815,000.
This ad campaign comes at a time when the political players have very different views of the best approach to campaign financing. Democratic Governor Cuomo is currently proposing a system of public financing based on the one used in New York City. That system offers to match a portion of funds raised in exchange for complying with stringent spending limits. Such public financing has been rejected by Senate Republicans who say it's not a wise use of taxpayer money. Other legislators are also against altering a campaign financing system that gives a fundraising advantage to incumbents.
For now, the debate rages on as politicians voice their views on campaign fundraising. Hopefully, the advertising campaign will give the people a chance to be heard amidst their roar and the uproar.
To leverage the power of a creative advertising campaign, contact MDG.
MDG, a full-service advertising agency with offices in Boca Raton and New York, NY, is one of Florida's top creative ad agencies. Our 360° approach uses just the right mix of traditional and digital marketing to reach your advertising goals. MDG specializes in developing integrated marketing strategies, exceptional creative executions, and solid branding and media-buying strategies that give clients a competitive advantage. Our core capabilities include print advertising, direct mail, branding, logo design, creative, media planning and buying, radio and TV advertising, billboard design, online advertising, Web design and development, email marketing, social media marketing, and SEO. To stay on top of the latest trends in marketing and advertising, contact MDG.
Read more at NYT.com.