New Apple Watch is Just What the Healthcare Industry Ordered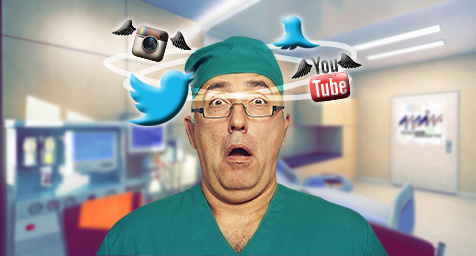 While consumers' hearts are racing over the debut of Apple's new iPhone 6, healthcare brands and marketers are more likely to have their pulses quickened over the tech giant's other launch of a smartwatch called Apple Watch. This wearable device is packed with many fitness tracking and biometric sensors that enable it to collect health data and share it with other providers through Apple's HealthKit app. Apple Watch essentially provides a centralized location for all of a consumer's digital health tracking. Apple Watch has arrived at a time when the demand for digital wearables is sky-high, especially among health-conscious consumers who have become increasingly empowered to take their health into their own hands and start achieving their fitness and wellness goals. With the debut of Apple Watch, healthcare brands and marketers have many new exciting opportunities to reach their target healthcare and health-conscious audiences.
The healthcare industry has kept its finger on the pulse of the wearable device technology as more and more consumers have been regularly relying on wearable devices to monitor their health status and fitness levels. The only problem has been that their progress had to be stored on a variety of health apps or on lower-tech means, rather than in one single location. According to a 2013 Pew Research report, 69% of U.S. adults track one or more health indicators, with 49% of those trackers storing their health and fitness data "in their heads" and one-third relying on pen and paper.
But with Apple Watch, consumers will be able to keep all of their health information in a central location for easy access and comprehensive monitoring.
Apple Watch will be able to perform the following:
Track health and fitness data including intensity of workout, type of exercise, distance, speed, and pulse rate.
Collect and store all health data from various wearable devices.
Send any aggregated health data to the healthcare providers and other professionals of the consumer's choice.
Pair with Apple's new HealthKit app, which has drawn interest from major healthcare institutions like Mayo Clinic and Memorial Sloan-Kettering.
So how will the new Apple Watch make the world a better and healthier place?
For consumers, the new Apple Watch will make health tracking much more convenient and motivate them to achieve their health and fitness goals.
For the medical community, Apple Watch will enable healthcare systems to promote preventative care rather than treatment of sickness, as well as enable medical professionals to easily coordinate care with multiple providers.
For health app developers, the ability of Apple's HealthKit to render all wearable-device data into a common format will provide opportunities to develop engaging functions that are compatible with all devices.
For healthcare brands and marketers, Apple Watch will bring more opportunities than ever to market directly to today's empowered healthcare consumers.
For important insights and timely tactics to reach this fast-growing market of empowered healthcare consumers, a new e-book from MDG called A Marketer's Guide to the Empowered Healthcare Consumer details how healthcare brands and marketers can earn the trust, business, and loyalty of this new generation of healthcare decision makers.
A Marketer's Guide to the Empowered Healthcare Consumer delivers the following critical information:
12 easy steps to power up your healthcare marketing right now
How to get a competitive edge from the recent boom in personal fitness, wellness, and medical technology
New opportunities created by Obamacare, and why you must act fast to benefit
How healthcare marketers can keep their online reputations healthy and thriving
Valuable insight on how alternative practices will impact the healthcare marketplace
Ways to get the most out of powerful new marketing channels, along with more traditional ones
Now that Apple Watch has arrived, healthcare brands and marketers can get ahead of the competition by learning to leverage this powerful device and connect with the healthcare consumer of today and tomorrow.
And the free e-book, A Marketer's Guide to the Empowered Healthcare Consumer, can put healthcare professionals on the right track to reach this health-tracking audience.
Learn new tactics for successful healthcare marketing. Contact MDG.
MDG, a full-service advertising agency with offices in Boca Raton and New York City, is one of Florida's top healthcare marketing companies and branding firms, whose healthcare clients include Dental Care Alliance, MDVIP, Max Planck Florida Institute, HCA East Florida, Primary Pharmaceuticals, the biostation, and MD Now. MDG's core capabilities include branding, logo design, print advertising, digital marketing, mobile marketing, email marketing, media planning and buying, radio and TV advertising, outdoor, newspaper, video marketing, infographic development, Web design and development, content marketing, social media marketing, and SEO. To learn more about the latest trends in healthcare marketing, contact MDG.