New Balance Runs with New Social Running Advertising Campaign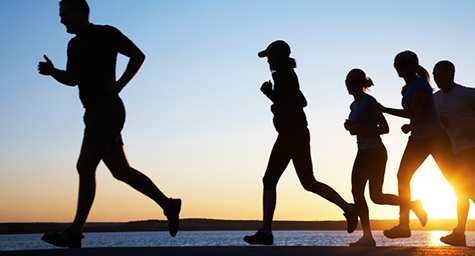 Running has always been a popular pastime, but has typically been seen as a solo sport. Today, running has evolved into a more social activity where runners train together, run in packs, and support each other every step of the way. Now New Balance is trying to convey this social approach to the sport with its new "Runnovation" advertising campaign. The New York Times reported on how the campaign is right in step with today's socially centric running revolution.
Launched in early July, the new retail campaign is comprised of digital advertising, online videos, and traditional print ads placed in almost 10 different fitness magazines. The new ads feature groups of runners training and racing together, which makes a much stronger visual impression than the image of a lonely runner.
"We've definitely made a shift in showing more people in advertising," said Hilary Keates, director of global marketing and brand management at New Balance. "It's less about being alone on a road and more about that community that you get out in the running world."
One print ad features clever copy that redefines "girls' night out" as enjoying an evening run with friends and calls this social trend a Runnovation. The campaign also makes mention of the November Project. This is a Boston-based running group promoted through social media that trains together a few times each week. A photo of their group sessions serves as the image of another print ad, along with copy that describes their intense workout as part of an average Monday morning and further proof of the Runnovation.
While New Balance may share a Boston location, the company does not directly sponsor the November Project. Instead, the program is featured in some of campaign's print ads and online videos. New Balance discovered the November Project because employees at the company and its digital advertising agency have taken part in the workouts.
"We didn't have to look beyond our backyard on how best to articulate this social component, because the November Project is a wonderful articulation of this real sense of community and togetherness," explained Ms. Keates.
In addition to highlighting the social scope of running, the ad campaign also features runners in rare surroundings. One ad spotlights Anton Krupicka, an athlete who competes in ultramarathon trail runs that can span 100 miles. Other ads promote the company's state-of-the-art design facility, which shows how they keep their shoes in step with today's running issues and tomorrow's technology.
The cost of the campaign has not been disclosed, but New Balance spent $14.4 million on advertising last year. Yet with running shoe revenues increasing nearly 7 percent in the first six months of 2013 and the social momentum bringing more interest to the sport, this new advertising campaign is poised for a good run and great results.
Discover the power of integrating social elements into retail marketing messages. Contact MDG today at 561-338-7797, or visit www.mdgsolutions.com.
MDG, a full-service advertising agency with offices in Boca Raton and New York, NY, is one of Florida's top creative ad agencies. Our 360° integrated approach uses just the right mix of traditional and digital marketing to reach your advertising goals. While some industries may fare better in print and others online, we strive to create a balanced approach, where traditional and digital marketing efforts support each other and your message is tailored to the medium. Our core capabilities include print advertising, branding, logo design, creative, digital marketing, media planning and buying, radio and TV advertising, retail marketing, Web design and development, email marketing, social media marketing, and SEO. To discover the top trends expected to have the greatest impact on the retail industry's progress and performance this year, see "Top 3 Trends in the Retail Industry for 2013."