New Cadillac TV Ads are Influenced by Affluence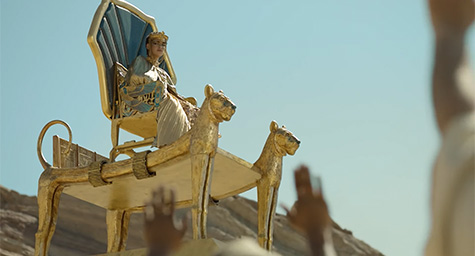 Cadillac is cashing in on the world of wealth by making money the object of its latest TV advertising. The newest spot highlights the history of how the rich have flaunted their fortunes, leading up to the luxury of Cadillac cars as being the picture of prosperity. While toasting and boasting a luxurious lifestyle may seem like a surprising approach, Cadillac's intention for the ad is to express the lavish and lofty experience of driving the upgraded Escalade. MediaPost.com examined the concept to see whether it's right on the money.
The spot steers viewers back through time to show how the rich and the royals have always flaunted their wealth through their vehicles. The ad concludes in the present day as a group of successful Americans drive their luxurious white Escalade to their lavish country home.
"What we find, particularly in the luxury space, is that people want to be informed about the vehicle itself," said Brian Maraone, VP, Automotive Practice. "We found that it's not just enough to engage the audience, you have to demonstrate or talk about the vehicle."
Yet since most upscale car commercials just spell out the vehicle's features, Cadillac strived to distinguish the car by making the ad much more aspirational, and aligning driving the Escalade with the finer things in life. This makes the ad more engaging and inspires the viewer's desire to experience that life by driving that car.
By taking this affluent tone, the TV ad creates an emotional reaction, which is the first step in driving viewers to take additional action.
Stay up to date on the latest in TV advertising. Contact MDG today at 561-338-7797 or visit www.mdgsolutions.com.
MDG, a full-service advertising agency with offices in Boca Raton and New York, NY, is one of Florida's top branding firms. MDG's capabilities include print advertising, direct mail marketing, branding, logo design, creative, digital marketing, media buying and planning, radio and TV advertising, Web design and development, online video advertising, infographic development, email marketing, mobile marketing, content marketing, social media marketing, and SEO. To learn about the latest trends in advertising and branding, contact MDG today at 561-338-7797 or visit www.mdgsolutions.com.