New Advertising Campaign Hopes To Make Malaria A Memory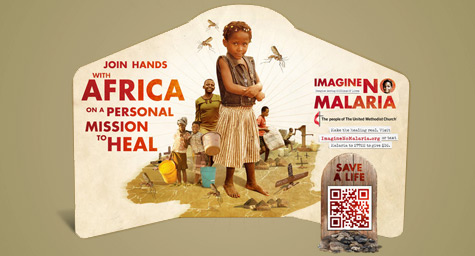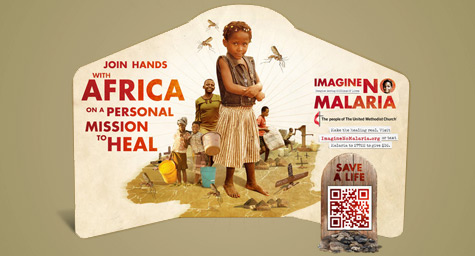 The New York Times reports that a new advertising campaign is focusing on the fight against malaria by supporting Imagine No Malaria, a ministry of the United Methodist Church in Nashville. The ad campaign is promoting its mission through an extensive media mix that includes its website, imaginenomalaria.com, as well as television commercials, print ads, online banner ads, displays, fundraisers, and social media such as Twitter and Facebook. An Imagine No Malaria app for the Android is also underway.
Imagine No Malaria is being enacted by a division of the ministry known as the United Methodist Committee on Relief, a nonprofit that operates in more than 80 countries. They have already partnered with well-known charitable organizations such as the United Nations Foundation, the Global Fund, and the World Health Organization. The goal of the ministry is to raise $100 million as part of efforts to wipe out malaria in Africa by 2015. Approximately $17.5 million has been raised so far.
The advertising campaign was created by AdHope Outreach Marketing, a unit of the Buntin Group in Nashville that is devoted to cause marketing. This specialized division called "cause marketing" has become so popular over the last few years that many agency departments, and even entire advertising agencies, now focus on it.
The United Methodist Church is one of the country's most active in running mainstream advertising campaigns. The church's campaigns are sponsored by a segment known as United Methodist Communications.
"We offer to the churches in the United States the information about malaria they don't have because it's not a problem here," says Rev. Larry Hollon, general secretary of United Methodist Communications.
Mr. Hollon praises the ad campaign's use of an emotional beacon. "You can't make that emotional connection by focusing on death and destruction," he adds. "The goal is to touch the heartstrings and to let people know that if they respond, they're contributing to an effort we have optimism will succeed."
The advertising campaign uses an optimistic tone to express the theme that we have to fight malaria in the world even though we aren't personally experiencing it. It seeks to change our apathy into caring by focusing on the vitality of life in Africa and saving those in need.
MDG, a full-service Florida advertising agency, with offices in Boca Raton and New York, NY, specializes in developing targeted Internet marketing solutions, exceptional creative executions and solid branding and media buying strategies that give clients a competitive advantage.Our core capabilities include print advertising, branding, logo design, creative, digital marketing, media planning and buying, TV and radio advertising, public relations, Web design and development, email marketing, social media marketing and SEO. View MDG's creative marketing portfolio.