New Coca-Cola Ad Makes Happiness Seem Like a Walk in the Park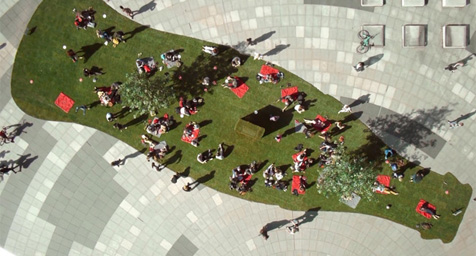 As the latest effort in their "Where Will Happiness Strike Next" initiative, Coca-Cola is rolling out a refreshing new TV ad that literally rolls out a pop-up park. In this "Roll Out Happiness" campaign, a Coca-Cola truck transforms a drab concrete pavement into a grass-covered, tree-lined park and encourages city dwellers to savor a moment of happiness. To make the colorful, grassy surroundings even more enticing, the campaign includes a Coca-Cola vending machine that only dispenses drinks when people take off their shoes and enjoy the peace of the park. FastCompany.com featured this whimsical ad that makes happiness seem like a happy accident.
The new campaign upholds Coca-Cola's Open Happiness global marketing platform and captures their philosophy of provoking happiness at any place and any time. To reinforce the brand's relation to happiness, the end of the ad reveals that the park is shaped like a Coke bottle.
"When we decided to go into the territory of 'owning' happiness we entered a competitive area so worked with scientists and economists to understand happiness in greater depth to identify Coke drivers of happiness, namely being together, being active, being in the moment, being curious, and giving," said Guy Duncan, global group content director at The Coca-Cola Company.
The message behind the ad is that a slight change in scenery can make life more meaningful. By turning gray concrete into green grass, it can turn people's attitudes around and allow them to have some unexpected happiness.
While the concept of the ad was scripted, the people's reactions were authentic. The park came as a complete surprise, so all of their reactions were candid and spontaneous.
Social media has been an increasingly large part of Coca-Cola's marketing strategy and all of the efforts in the "Where Will Happiness Strike Next?" initiative are designed for maximum social response. The brand promotes this type of content to its huge social media audience through Facebook updates, global Tweets, local community managers, and PR  in the hope of it going viral. And that would make Coca-Cola really happy.
Discover the latest ideas and innovations in advertising. Contact MDG.
MDG, with offices in Boca Raton and New York, NY, is a full-service advertising agency and one of Florida's top creative ad agencies. MDG specializes in developing integrated marketing solutions, exceptional creative executions, and solid branding and media-buying strategies that give clients a competitive advantage. Our core capabilities include print advertising, branding, logo design, creative, digital marketing, creative media planning and buying, radio and TV advertising, Web design and development, infographic development, email marketing, social media marketing, and SEO. To stay on top of the latest trends in advertising and marketing, contact MDG. To learn more about Coca-Cola's innovative marketing strategies, check out "Coke Targets Teens And Mobile With First All-Digital Campaign."