New E-book: "12 Holiday Email Marketing Secrets You Can Use, Right Now"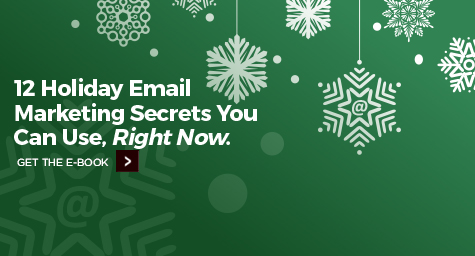 If you haven't already started your holiday email marketing, you probably should have. That's the advice of a new complimentary e-book from MDG. According to "12 Holiday Email Marketing Secrets You Can Use, Right Now," 40% of consumers start their holiday shopping before the end of October. Perhaps even more important, 49% of marketers launch holiday campaigns before Halloween. There's a good chance your biggest competitor may be one of them.
This useful e-book goes on to give additional reasons why starting early is good, but also why you need to adjust your start date for specific events like Cyber Monday. You'll get tips for creating a greater sense of urgency, as well as a few surprising tactics to rev up your response rate.
Here's a quick sampling of some of this e-book's insights:
One "small" trick that could double the average open rate of your emails
How to make shoppers' holiday stress work to your advantage
Why you must make this the season for sharing…on social media
The perfect method for timing your emails
Simple tactics to make emails cross borders to a broader audience
Easy ways to stretch holiday sales beyond traditional calendar dates
Why it's important to think small if you want your emails to get read
If you're a marketer who uses email during the holidays, then consider this a must-read. The e-book divides the tips into four useful categories to keep things simple. You'll learn "When to Start Sending," "Key Optimization Tactics," What's Different in 2015," and "How to Finish Strong." Each section is well organized, providing just what you need to know and nothing you don't.
"12 Holiday Email Marketing Secrets You Can Use, Right Now" also offers some reassuring statistics. For example, 71% of online adults say they are influenced by promotional emails to take some sort of action during the holidays. So if you aren't utilizing this medium to its fullest, you probably should be.
[ebook]
Unwrap the latest tactics in holiday email marketing. Contact MDG today at 561-338-7797.
MDG is a full-service advertising agency and one of Florida's top branding firms. With offices in Boca Raton and New York City, MDG's core capabilities include branding, logo design, print advertising, digital marketing, mobile marketing, email marketing, media planning and buying, TV and radio, outdoor advertising, newspaper, video marketing, website design and development, content marketing, mobile marketing, social media marketing, and SEO. To discover the latest trends in branding and advertising, contact MDG today at 561-338-7797.