New E-book: B2B Marketing 2016: 5 Digital Must-Dos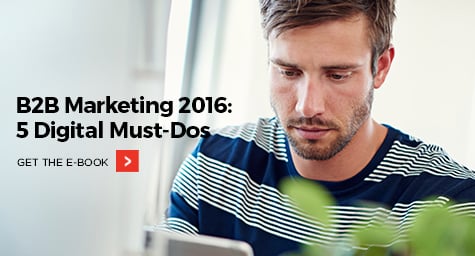 As B2B marketers dive into 2016, which digital tactics should they be devoting additional budget to? What are the best approaches to focus on?
Overall, digital is expected to become an even more essential part of B2B organizations' marketing plans this year. Some 98% of B2B companies increased their digital spend last year, and that number is expected to be matched in 2016.
Marketers are already spreading their digital budgets across a wide range of channels, including websites, search, social media, Big Data, content creation, app development, software suites, and much more.
So, which of these many areas deserve additional consideration in 2016?
We've sorted through dozens of surveys and research reports to find the key digital approaches that are both already working for B2B marketers and that have substantial future growth potential.
The new e-book from MDG, "B2B Marketing 2016: 5 Digital Must-Dos," explores the key tactics and tools that are increasingly important for B2B organizations in almost every vertical.
The complimentary e-book examines why each of the areas matters, and what you'll need to do to make the most of these opportunities.
The areas covered include:
Content quality: Savvy B2B marketers are looking to create better content in 2016, not just more content; find out why this shift is essential for every organization.
Customer journey: Developing an in-depth map of the customer journey is the best way to boost lead quality; learn why this exercise is the foundation of digital success.
Predictive analytics: Many B2B companies say they are investing heavily in marketing analytics in 2016; explore how new tools are giving marketers a powerful crystal ball.
Marketing automation: Forward-thinking B2B organizations are spending on sophisticated automation platforms; explore why this trend is one to follow.
Webinars and SEM: These tried-and-true tactics continue to deliver for marketers; understand how the rise of Millennial buyers is making each even more important.
Check out the full e-book for in-depth analysis on why each of these areas is expected to be important in 2016, and for specific recommendations on how to make the most of their potential.
[ebook]
Discover the latest tactics in B2B marketing. Contact MDG today at 561-338-7797. 
MDG is a full-service advertising agency and one of Florida's top branding firms. With offices in Boca Raton and New York City, MDG's core capabilities include branding, logo design, print advertising, digital marketing, mobile marketing, email marketing, media planning and buying, TV and radio, outdoor advertising, newspaper, video marketing, website design and development, content marketing, mobile marketing, social media marketing, and SEO. To discover the latest trends in branding and advertising, contact MDG today at 561-338-7797.