New Facebook Ad Format Uses Consumers' Social Media Snapshots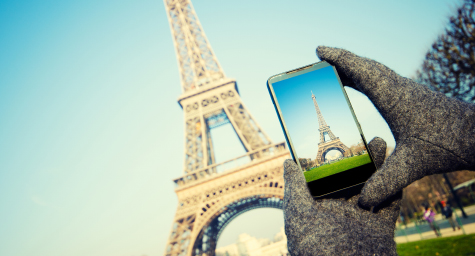 Advertising is taking a page from social media by taking actual photos from it. This new ad format is called Predictive Consumer Generated Ads and it lets brands place consumers' real-life photos from Instagram, YouTube, Twitter, and Vine into the Facebook ads they place. The format enables brands to retarget Facebook users with more relevant, subtle ads that literally reflect the way they live. AdWeek.com shared more on how using social media photos could be a picture-perfect ad approach.
A Truly Consumer-Focused Strategy
Social media photos already have a presence in many major advertising campaigns, but this is the first time they're being used for Facebook ad campaigns.
This new ad format was created by social media marketing platform Olapic. The company developed a special technology to sift through users' photos posted to popular social media networks. The technology uses an algorithm that shows which social photos are most likely to click with consumers and lead them to click on ads. And brands already like the technology since more than 100 brands have been using it to find people buzzing about their brands.
Once a photo is chosen, Olapic contacts the user to ask for permission to use their photo in the social media ad. This protects each user's privacy and often inspires chosen users to become brand ambassadors.
West Elm was one of the first brands to try out the technology. Its Facebook ads are based on its prior social media ad campaign, #MyWestElm, which collects the product-centric photos shared by people on social media. Once the photos are uploaded to a special website, the company adds links to similar online West Elm products. The strategy has been a hit because the company has collected more than 18,000 photos and the website is generating two million unique monthly users.
The Image of Relevance
Now, Facebook is hoping that this new social media ad format will make their retargeting tools more enticing to brands and e-commerce companies. A major appeal of the approach is how it redefines retargeting by replacing aggressive tactics with a subtler, softer sell.
These ads use friendly social media photos that consumers can relate to and show how products people viewed can be used in their lives. It's a personal approach to retargeting that fits in with the personal nature of social media platforms.
Discover strategies for successful media marketing. Contact MDG today at 561-338-7797 or visit www.mdgsolutions.com.
MDG, a full-service advertising agency with offices in Boca Raton and New York, NY, is one of Florida's top branding firms. MDG's capabilities include print advertising, direct mail marketing, branding, logo design, creative, digital marketing, media buying and planning, radio and TV advertising, Web design and development, online video advertising, infographic development, email marketing, mobile marketing, content marketing, social media marketing, paid search marketing, and SEO. To learn about the latest trends in advertising and branding, contact MDG today at 561-338-7797 or visit www.mdgsolutions.com.