New Motorola Ad Colors Our Perception of Print Advertising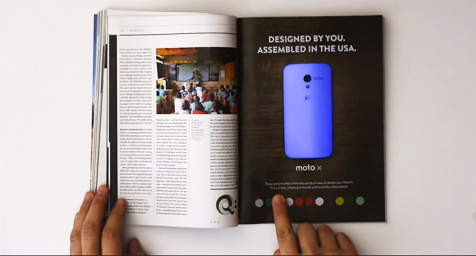 Proving that print advertising is more vibrant than ever, Motorola recently created an innovative print ad for its new Moto X that lets readers change the color of a phone by pressing a palette on the page. The ad is featured in the January issue of Wired and it displays how creative advertising can infuse physical media with digital charm. PSFK.com called attention to the magic touch of print.
The ad displays the image of the phone over a series of colorful circles. Readers can change the phone's tone by touching one of the tabs of color. What brings a new hue into view? First, polycarbonate paper is used to cover the LED lights inlaid into the image of the phone. Then, these lights are connected to the circles of color, so readers can shift the shade with a single touch.
The ad is simply the latest exhibit of Motorola's colorful streak. The company also created an outdoor advertising campaign where bus shelters and storefronts suddenly changed color to match the clothing of people passing by.
While the color-controlled print ads will only appear in the New York and Chicago metro area editions of Wired, Motorola believes that the pass-around value will far outweigh the limited print run and be seen as a bold display of brilliant branding and creative advertising.
To see how Motorola is lending color to the power of print advertising, check out this must-see video.
Discover the latest trends in print advertising. Contact MDG today at 561-338-7797 or visit www.mdgsolutions.com.
MDG, a full-service advertising agency with offices in Boca Raton and New York, NY, is one of Florida's top branding firms. MDG's core capabilities include print advertising, branding, logo design, creative, digital marketing, media planning and buying, radio and TV advertising, Web design and development, online video advertising, email marketing, content marketing, social media marketing, and SEO. To learn about the latest trends in print advertising, contact MDG today at 561-338-7797 or visit www.mdgsolutions.com.