New Nielsen Twitter TV Rating to Measure Social TV Audience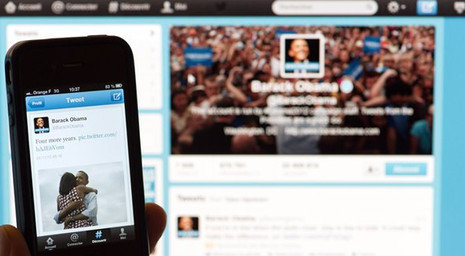 In an effort to accurately gauge the reach of online conversations about TV programs, Twitter and Nielsen are partnering on a multi-year project called the Nielsen Twitter TV Rating. This joint effort differs from other measurement systems that simply count the number of people tweeting about certain shows. Instead, this new TV rating system is designed to calculate the actual amount of users that have read each program-related tweet. It's scheduled to be available for the start of the fall 2013 TV season. LATimes.com reported on how the new metric is taking advantage of the growing popularity of simultaneous social media activity and television viewing (second screen).
"It captures the whole audience of that conversation, not just the specific Tweeter," explained Steve Hasker, president of global media products at Nielsen.
Now more than ever, Twitter has become a virtual sounding board for expressing opinions and comments about various TV shows. These online forums provide a place for fans and followers to connect, comment, and converse with fellow viewers and show creators alike. This makes Twitter a valuable source of insight and information about many aspects of a TV show's audience.
In addition, the ever-increasing use of mobile devices while watching TV makes it quick and convenient for audiences to voice their opinions about TV shows directly to like-minded viewers on Twitter.
Based on these two trends, the new Nielsen Twitter TV Rating comes just in time to get a more complete understanding of the social audience and a more exact measure of its overall impact.
"It's the only metric that gives you a holistic view of the earned media component around a TV program."
To incorporate Twitter into your TV marketing strategy, contact MDG today at 561-338-7797 or visit mdgadvertising.com.
MDG, with offices in Boca Raton and New York, NY, is a full-service advertising firm and one of Florida's top digital marketing companies. MDG specializes in developing targeted Internet marketing solutions, exceptional creative executions, and solid branding and media-buying strategies that give clients a competitive advantage. Our core capabilities include print advertising, branding, logo design, creative, digital marketing, media planning and buying, radio and TV advertising, Web design and development, email marketing, social media marketing, and SEO. View MDG's creative marketing portfolio.
Read more at LATimes.com.