New Nivea Print Ad Offers Parents Sun Protection with Son & Daughter Protection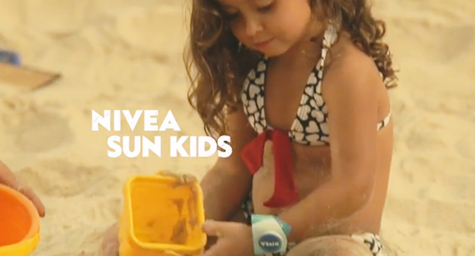 While most sunscreen ads strive to make people put it on, a new Nivea print ad tries to keep kids from running off. Nivea is known as one of the world's largest skincare brands. But now they're extending that umbrella to childcare in an innovative print ad that helps parents protect children both from the sun and under the sun. FastCompany.com featured the ad to show how Nivea is putting parents at ease by putting all kinds of protection within reach.
The Brazilian print ad arrives just in time for summertime as more and more families plan to be at the beach. The ad features a detachable strip of paper that can be formed into a bracelet and placed on a child's arm. The beauty of the bracelet is that it's connected to a mobile app that enables parents to digitally track their child's whereabouts.
Once the child is wearing the humidity-resistant paper bracelet, parents can simply download the app and set a maximum distance that children can wander. If the child goes beyond that distance, the app alerts parents that kids have gone too far, both literally and figuratively. Then parents can use the app's radar to track down the child.
With this innovative print advertising concept, Nivea is shining light on their reliable reputation for family protection.
Discover the value of innovative print advertising. Contact MDG today at 561-338-7797 or visit www.mdgsolutions.com.
MDG is a full-service advertising agency and one of Florida's top branding firms. With offices in Boca Raton and New York City, MDG's core capabilities include creative, branding, logo design, print advertising, digital marketing, mobile marketing, email marketing, media planning and buying, radio and TV advertising, outdoor advertising, newspaper, video advertising, Web design and development, content marketing, lead generation, mobile marketing, social media marketing, and SEO. To discover the latest trends in branding and advertising, contact MDG today at 561-338-7797.