New Smart Shelves with Sensors and Analytics Decode the Impulse Buy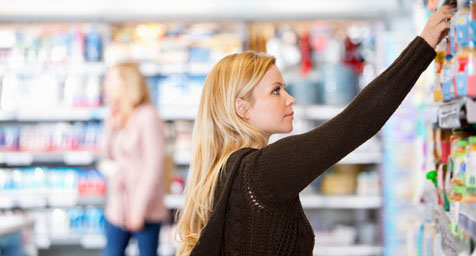 Technology is cracking our snack-buying behavior with brand-new, in-store snack displays that feature sensors with analytics to track the way we snack. Developed by snack maker Mondelēz International Inc., the new displays are called smart shelves and they use sensor technology to analyze the gender and age of potential snackers. Then, they use the demographic data to deliver ads that appeal to the snackers' tastes. The Wall Street Journal reported on how sensor technology is helping businesses get a better sense of their customers.
"Knowing that a consumer is showing interest in the product gives us the opportunity to engage with them in real-time," said Mondelēz CIO Mark Dajani. "When people walk by, it's a missed opportunity."
While similar smart shelves have been used for more than a decade, the concept of adding sensors with analytics to gain greater insight into consumer buying behavior is extremely innovative. This approach is following the current trend of businesses using sensors to learn more about their customers and the usage of their products.
These new smart shelves appear to cover every stage of the impulse buy. First, sensors analyze the potential snacker's facial structure and physical characteristics to determine gender and age. Next, the sensors use this demographic data to prompt the display to show products that appeal to that market. If the snacker remains in front of the display for a length of time, the sensors may prompt the display to show a video ad targeted to that market. Sensors also detect if a product has been taken off the shelf, which could prompt the display to provide a coupon as an incentive to buy.
Then, the smart shelves relay all of this consumer data to Mondelēz for further analysis. The results could have a major impact on the company's marketing, product development, and supply chain. In addition, smart shelves can indicate whether brands have proper in-store placement to help retailers ensure optimal traffic and sales.
While consumer analysis always sparks privacy concerns, these smart shelves are designed to respect the consumer's privacy. They don't collect any photos, video, or personal information. Instead, they use the demographic data amassed from the sensors to create avatars of consumers' faces, so there's no trace of an individual's identity.
While these new smart shelves won't arrive in stores until 2015, industry analysts expect them to have a significant impact on product placement and overall sales.
Gain insight on the latest digital innovations in retail marketing. Contact MDG.
MDG is a full-service advertising agency and one of Florida's top creative ad agencies. With offices in Boca Raton and New York City, MDG's core capabilities include branding, logo design, print advertising, retail marketing, digital marketing, mobile marketing, email marketing, media planning and buying, TV and radio, outdoor, newspaper, video marketing, Web design and development, content marketing, mobile marketing, social media marketing, and SEO. To stay on top of latest trends in digital marketing and advertising, contact MDG. Read more about ad targeting technology for retail marketing in "Brands Test Ad Targeting Technology at the Store Shelf."