New Study Finds Tweets Lead to More Offline Sales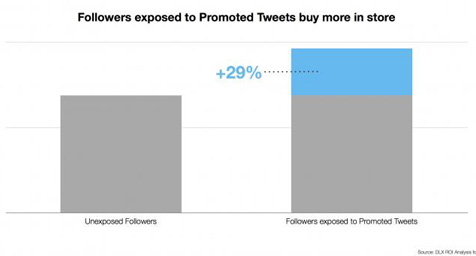 Do tweets actually lead to an increase in offline sales? This question has vexed businesses for years. Until recently, it was possible to measure the relationship between Twitter engagement and online purchases, but quantifying the impact in the real world was difficult.
Now, thanks to a recent report by Twitter and Datalogix, there is finally some data. The top-line finding is that Twitter activity clearly leads to greater offline sales—especially if consumers engage with a brand's tweets.
The study, which was conducted by Twitter and Datalogix, examined the impact of promoted (paid) and organic (free) tweets on offline sales for consumer packaged goods businesses in the United States.
The 35 brands studied spanned multiple categories, including beverages, food, wellness, household products, and alcohol.
Key findings include:
Users who engaged with a brand's promoted tweets spent, on average, 12% more on that company's products in physical stores.
Users who saw promoted tweets without engaging still spent more than those who did not see the paid tweets—averaging 2% more in offline spend. This indicates that businesses should be monitoring impressions as well as engagement when purchasing ads on Twitter.
Organic tweets also drove offline sales, though not quite as much. Users exposed to a brand's unpaid tweets spent 8% more on its products in offline stores.
This lift was nearly 3x greater among users who saw five or more organic tweets over the measurement period. The implication is that tweeting consistently and often is key.
While the study only examined 35 brands, the findings seem to signal that businesses of all sorts can boost offline sales by using Twitter, especially if they focus on driving engagement with paid spends and commit to sending organic tweets frequently.
Keep up to date on the latest in social media marketing. Contact MDG today at 561-338-7797 or visit www.mdgsolutions.com.
MDG is a full-service advertising agency and one of Florida's top creative ad agencies. With offices in Boca Raton and New York City, MDG's core capabilities include branding, logo design, print advertising, digital marketing, mobile marketing, email marketing, media planning and buying, TV and radio, outdoor advertising, newspaper, video marketing, Web design and development, content marketing, mobile marketing, social media marketing, and SEO. To stay on top of the latest trends in marketing and advertising, contact MDG today at 561-338-7797. To learn about the new Twitter Nielsen TV ratings system and how it can measure the impact of tweets on TV shows, check out "Twitter Premieres Its New Nielsen TV Rating System."