New Study Reveals Facebook Advertising Leads to 24 Percent Sales Boost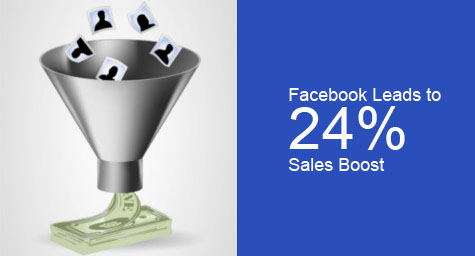 A new study revealed a 24 percent increase in sales when an ad campaign's media plan included Facebook advertising. This finding directly defied the social cynics who argue that social media advertising does not lead to sales. The study was conducted by media firm Aggregate Knowledge and analyzed 25 campaigns that ran during Q4 2012. AdWeek.com reported on this sales success derived from Facebook advertising.
The Facebook-focused media plans relied on the social media network's premium ad units as the anchor and broadened their brand's reach with supplemental marketplace ads along the right rail. Many of these media plans supported their Facebook ads with additional video, search, display, email, mobile Web, and social media advertising. Still, it's important to note that forty-five percent of the users reached by these advertising campaigns were actually unique to Facebook and did not use other digital channels in the plan.
The study is a boon to Facebook as the company has been striving to position itself as a powerful sales generator and business tool. These results reflect similar independent studies that affirm the network's value as a strong sales driver.
According to the study, Facebook advertising performed very well when the channel was a user's first encounter with the ad. Interestingly, the network was not typically the place of final conversion since it often takes a few days or weeks for that Facebook exposure to lead to conversion. This is why Facebook advertising is recommended as part of an integrated media plan to allow for various points of exposure and conversion.
In addition to the social media network's ability to increase sales, the study also indicated that Facebook delivered a 68 percent lower cost-per-acquisition than other channels. This makes Facebook advertising a real bargain for advertisers seeking higher sales at a lower cost.
To learn more about integrating Facebook advertising into your social media marketing strategy, contact MDG.
MDG, a full-service advertising agency with offices in Boca Raton and New York, NY, is one of Florida's top integrated marketing agencies. Our 360° approach uses just the right mix of traditional and digital marketing to reach your advertising goals. While some industries may fare better in print and others online, we strive to create a balanced approach, where traditional, social media, and digital marketing efforts support each other and your message is tailored to the medium. Our core capabilities include branding, logo design, creative, digital marketing, infographic development, integrated media plans, award-winning print ads, radio and TV advertising, online video, Web design and development, email marketing, social media marketing, and SEO. View MDG's creative advertising portfolio.
Read more at Adweek.com.