New Tunnel Vision App Maps NYC Subways on Augmented Reality Platform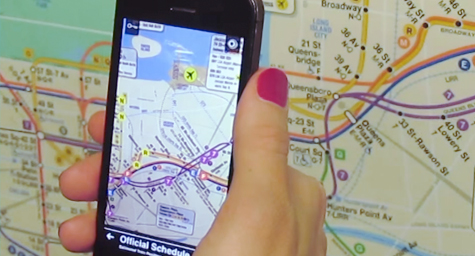 The New York City subway system is riding the wave of technology with an innovative iPhone app that gives a real-time look at each station's situation. The app is aptly called Tunnel Vision and it uses augmented reality and big data to produce animated visualizations of current station crowding and train locations. And users can access this information by simply pointing their iPhones at any map of New York's subway. Mashable.com mapped out the apps features to show how it's right on schedule with our mobile-minded times.
The iOS app creates its visualizations via the latest MTA information and U.S. Census data. These visualizations are based on six separate datasets. MTA information includes subway schedules and turnstile activity, while census data consists of population density and demographic details.
Amazingly, the app is able to recognize any map of the subway, whether digital like an onscreen map or traditional like a wall map.  After it grasps the map, the app produces animated visualizations that show the specific transit and demographic data for different areas of New York City based on their proximity to the subway.
The app is designed to be user-friendly for both residents and tourists. Simply tap on Schedules to view an animated map of each train's approximate location. Just touch Turnstile Activity to compare crowd situations at various stations. Or swiftly move your iPhone across any map to view the different demographics of each neighborhood.
While Tunnel Vision may seem to be the brainchild of master developers, it was actually the thesis project of NYU student Bill Lindmeier. So now the work of a high-minded student has boomed into a high-tech way to track the train.
Discover the latest developments in high-tech trends. Contact MDG today at 561-338-7797, or visit www.mdgsolutions.com.
MDG, a full-service advertising agency with offices in Boca Raton and New York City, is one of Florida's top branding firms. MDG's capabilities include print advertising, direct mail marketing, branding, logo design, creative, digital marketing, media buying and planning, radio and TV advertising, outdoor advertising, Web design and development, online video advertising, infographic development, email marketing, content marketing, social media marketing, and SEO. For the latest trends in advertising and branding, contact MDG today at 561-338-7797 or visit www.mdgsolutions.com.