New Website Profiles the Many Faces of Facebook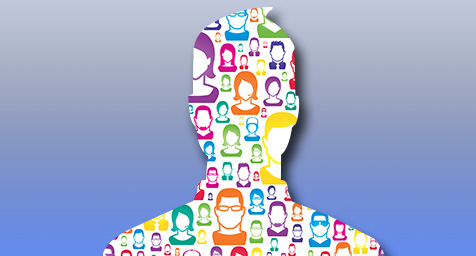 It's easy to see why Facebook has more than one billion users and now you literally can. A new website features all of the faces of Facebook users in a fascinating photomontage. Through a personal project called The Faces of Facebook, creative technologist Natalia Rosa gathered every Facebook profile photo and arranged them chronologically based on when the person had joined the network. CNN.com featured the site to show how it captures our world at face value.
The site simply looks like a colorful collage at first. Upon closer inspection, it reveals a series of facial photos that capture the distinct character of each person. Viewers can scroll though the photos, as well as zoom in on individual photos and even click on a photo to go to that person's Facebook page. In addition, viewers can find their own photos and compare their placement to their friends' by signing in via Facebook.
"I was playing around with Facebook API, and I discovered that there is a way to access everyone's public information with a very simple algorithm," explained Ms. Rosa. "At that time, I thought I could do something beautiful/interesting with that, like showing them all together. Then I started to write the code to achieve it."
While Ms. Rosa created the site through users' public information, she insists that she's not violating Facebook's privacy rules because she's not privately storing the information, but rather linking it out to public Facebook profiles.
The site took a year and a half to code and the most difficult part was removing the default silhouette images on some of the inactive Facebook profiles. The project was inspired by the notion that each profile photo depicts that person's best self. And together, those billion images express a universal and positive message.
"There is a mix of people from all over the world," said Ms Rosa. "Feeling happy, being creative, looking good, being passionate about something, proud of something, enjoying the life. So I think, why don't we try to be our Facebook profile picture?"
Discover how social media is driving and defining our world. Contact MDG today at 561-338-7797 or visit www.mdgsolutions.com.
MDG, with offices in Boca Raton and New York, NY, is a full-service advertising agency and one of Florida's top creative ad agencies. MDG's core capabilities include print advertising, branding, logo design, creative, digital marketing, creative media planning and buying, radio and TV advertising, Web design and development, content marketing, email marketing, social media marketing, and SEO. For the latest on social media marketing trends, contact MDG today at 561-338-7797. To learn how take advantage of Facebook's latest opportunities in social media marketing, see MDG's infographic, "A Marketer's Guide to Retargeting on Facebook."