New Yahoo Homepage Goes Social with Facebook-Personalized Streams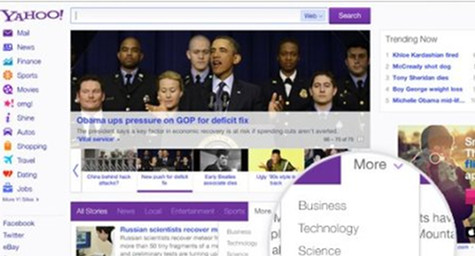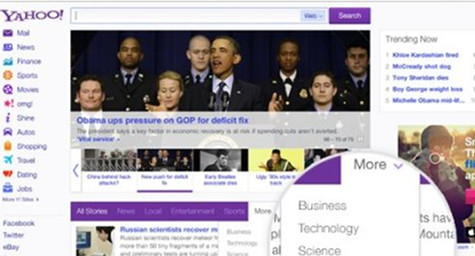 Yahoo! recently redesigned its previously news-heavy homepage to feature many more social and personalization features. According to the company blog, where the changes were introduced, the look is meant to make the new Yahoo! experience much more focused on the user's personal preferences, interests, and social media communications. HuffingtonPost.com highlighted the updates and upgrades to Yahoo's homepage.
Since news has always been the foundation of the Yahoo! homepage, the new page will still include the latest news, but now it will feature an infinite scroll that lets users experience a practically endless feed of news stories. This scroll can be easily customized to the user's interests.
Another personalized feature is a section for customizable mini "apps" for stock reports, weather updates, or birthday calendars.
Socially speaking, users can now easily connect their Facebook account to their Yahoo! homepage for instant access to the social media network. The homepage also has a "More" button that users can hover over to view additional social media activity, such as stories that friends are reading or talking about, as well as other topics that Yahoo! believes will interest the user.
Finally, the layout now has a cleaner appearance for a more aesthetically pleasing look and easier navigation.
The catalyst for this homepage change was probably the sharp decline in Web traffic experienced by many homepages over the last two years. Now, the company is hoping to recoup that lost traffic with a homepage that provides a truly user-centric experience based on Yahoo's many customizable options and access to Facebook profile information.
Early reviews have been very favorable, which is not always the case when familiar sites undergo major changes.
With these new personalized and social features, the Yahoo! homepage is able to offer the news people want with the social access they crave all in one place. Overall, it appears that the new Yahoo! homepage provides a more relevant, useful, and convenient social media experience that reflects our high-tech times.
To learn more about the latest trends in social media, contact MDG.
MDG, a full-service advertising agency with offices in Boca Raton and New York, NY, is one of Florida's top integrated marketing agencies. Our 360° approach uses just the right mix of traditional and digital marketing to reach your advertising goals. While some industries may fare better in print and others online, we strive to create a balanced approach, where traditional, social media, and digital marketing efforts support each other and your message is tailored to the medium. To learn more about the latest social media trends in marketing and advertising, contact MDG Advertising.
Read more at the Huffington Post.