New York City is Making Virtual Reality a Reality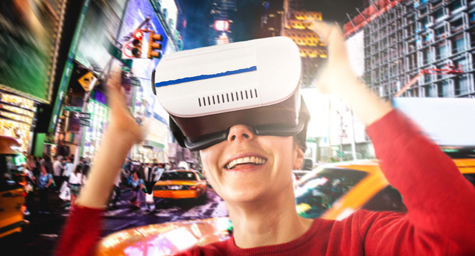 Virtual reality is starting to make great strides into daily life with the emergence of many virtual reality startups across virtually every industry, from media and entertainment, to art and education. While early adopters of the technology set up shop in the San Francisco Bay Area, more and more virtual reality manufacturers have started relocating to the streets of New York City. These moves have been motivated by the increasing usage of virtual reality by many New York City-based companies. New York has always been a leader and trendsetter for the rest of the world, which is why virtual reality producers are hoping that its growing usage throughout the city will encourage its mainstream adoption. BuiltInCityNYC.com explained how New York's focus on virtual reality is likely to transform it from a technology of tomorrow into a reality for today.
Every industry is incredibly well represented in New York today, including media, art, design, architecture, tourism, and entertainment. And now, every major tech company has opened an office in the city. In addition, the vast availability of venture capital for new and emerging companies is making NYC a vital part of the virtual reality landscape. As a result, it's a promising home and hub for virtual reality development in a broad range of industries.
As the long-standing media capital of the world, New York sets the tone for the entire media industry. Today, a growing number of the city's major media conglomerates are starting to experiment with virtual reality. For example, The New York Times announced the debut of NYT VR last year, which is a collaboration with Google to produce a series of virtual reality films. The films will cover timely topics of both national and global proportions. And the films will be available to viewers via an app and a Google Cardboard headset.
Virtual reality is also catching the eye of New York's art world. Today, more and more art museums are offering virtual tours and glimpses into museums, as well as new forms of educational access, with virtual reality technology.
And in the world of design and architecture, virtual reality is providing architects with virtual walkthroughs and letting users view 3D models of many design elements.
In recent years, the entertainment industry has been expanding its focus from its Hollywood home into the city streets of New York. Now, virtual reality is exciting New York City-based media makers because it gives their productions extra layers of depth and allows viewers to experience them on a more personal level.
Today, mobile apps provide the most convenient ways for viewers to experience virtual reality. These apps let viewers immerse themselves in virtual fantasy worlds and explore new experiences from any place and at any time. Not surprisingly, mobile development is another industry that's growing by leaps and bounds, with an increasing number of mobile-minded startups based in the city. One of the many mobile start-ups is LiveLike, which is a virtual reality company focused on sports broadcasting. It enables viewers to watch live sporting events from numerous angles via their mobile devices.
While New York is working hard to bring virtual reality to the streets, experts say that it won't be mainstream for a few more years. But by NYC spreading the news about the power of virtual reality, it should become an actual reality much sooner than ever imaged.
Discover what's making a real impact in digital marketing. Contact MDG.
MDG, a full-service advertising agency with offices in Boca Raton and New York, NY, is one of Florida's top branding firms. MDG's capabilities include print advertising, direct mail marketing, branding, logo design, creative, media buying and planning, radio and TV advertising, outdoor, newspaper, digital marketing, website design and development, online video advertising, infographic development, email marketing, video marketing, mobile marketing, content marketing, social media marketing, paid search marketing, and SEO. To learn about the latest trends in advertising and branding, contact MDG.