New York City's Subways Updated with Touch-Screens and Apps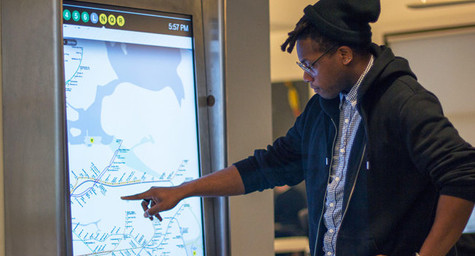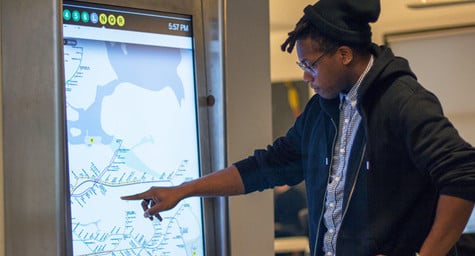 New York City's MTA system will go in a digital direction this year as the city's subways get modernized with a networked touch-screen system. Public transportation users will soon speed through the city via 90 touch-screen kiosks that make up a beta network for its 2 million commuters and tourists traveling each day. Fastcodesign.com featured details on the new network and explained how it may become a model for the future of transportation.
The plan was designed by Control Group, which proposed a similar digital system for New York City's payphones last year. In the subway network, each kiosk will have a 47-inch touch-screen enclosed in durable stainless steel. The kiosks will be placed near pay areas, outside pay areas, within mezzanines, and directly on train platforms. Most kiosks will appear in pairs to handle the high volume. The kiosks are scheduled to be rolled out later this year.
The touch-screens will display a variety of content, including the locations of outages, lengths of delays, and ads. These ads are expected to generate $100 million in revenue for the MTA each year. Of course, ads will be an enormous part of the network and can be easily modified to suit any condition or context.
The hardware will have an analytics-heavy backend with a simple front-end and will be able to support third-party apps. One of the most talked-about features is the touch-screen navigation system that will allow users to simply tap their desired destination and receive a complete mapped-out route, including transfers. Down the line, this interactive map will highlight points of interest to lead tourists to worthwhile places. The advanced technology will allow the MTA to update these places of interest in real-time by season, popularity, or virtually any situation. This is a major innovation in mapping technology.
The touch-screens will also be equipped with extra sensors, such as video cameras and Wi-Fi, to bring in all kinds of data collection and communication opportunities. These include passenger dialogue, interactive games, streaming media, and even automated metrics regarding subway crowding or other variables. They will also be valuable in spreading urgent information and mobilizing people during crisis situations like Hurricane Sandy.
"Sandy proved that we do need public messaging infrastructure separate from mobile devices," said Control Group partner Colin O'Donnell. "We can't provide Internet for everybody but we can allow interactivity on the platform."
To leverage the power of digital ads, contact MDG.
MDG, a full-service advertising agency with offices in Boca Raton and New York City, is one of Florida's top creative ad agencies. Our 360° approach uses just the right mix of traditional and digital advertising to reach your marketing goals. While some industries may fare better in print or TV ads, and others online, we strive to create a balanced approach, where traditional and digital marketing efforts support each other and your message is tailored to the medium. To learn more about the latest trends in marketing and advertising, contact MDG.
Read more at Fastcodesign.com.